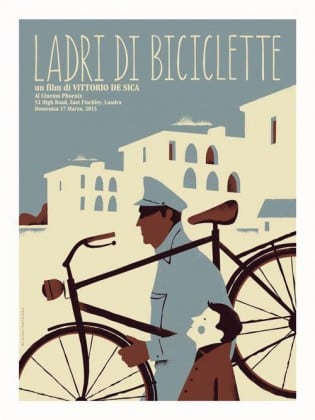 Director: Vittorio De Sica
Script: Luigi Bartolini (novel) Cesare Zavattini, Suso Cecchi D'Amico, Vittorio De Sica, Oreste Biancoli, Adolfo Franci, Gerardo Guerrieri
Producers: Giuseppe Amato, Vittorio De Sica
Cast: Lamberto Maggiorani, Enzo Staiola, Lianella Carell, Gino Saltamerenda, Vittorio Antonucci, Guilio Chiari, Elena Altieri, Carlo Jachino, Michele Sakara
87min Drama Italian with subtitles
Taking their cue from the work of Jean Renoir, Italian filmmakers like Visconti and Antonioni helped create the Neo-Realist movement out of necessity, post war. This entailed dispensing with studios, expensive set-ups and even professional actors, with stories inspired by the lot of the common people, the lower working classes, desperate for work and even food.
The Bicycle Thieves is as pure an example as you can get of this style, using a cast of non-actors and shooting entirely on location, it cannot be underestimated the impact that the Neo-Realist movement had on film as a medium and even this film in particular, inspiring the French New Wave, The Polish Film School and even Satajit Ray in India. Even today, De Sica's subtitled, black and white masterpiece can be found in countless significant lists of Greatest Films Ever Made and for a long time, even held the top spot. It's easy to see why.
Erstwhile factory worker Maggiorani was cast to play the lead after he arrived for the audition with his son. A deeply impassioned and committed performance from both him and Staiola, playing his boy give this stark story it's authenticity and edge.
Antonio Ricci is one of the many long-term unemployed, when he is plucked out of the jobless masses and given a job pasting billboard posters. The only condition being that he has a bike. He did have a bike, but pawned it to feed his family. So follows the mad scramble to retrieve his bicycle and thereby regain his self-respect by earning a wage with a proper job, working for the Council.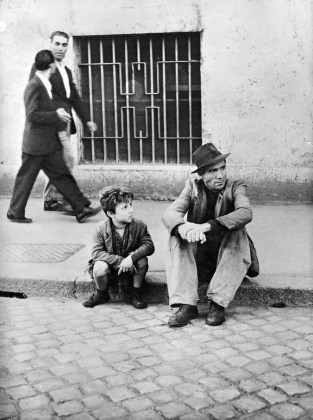 Underpinning this entire story, supplying its veracity and depth is the relationship between a man and his son; what it means to be a father and a father figure and all that befalls Ricci is put into even more stark relief by being played out with his boy as witness, serving to heighten the emotion for Ricci and by extension, the audience, be it the soaring heights of elation or black lows of humiliation.
This film won an extraordinary slew of awards across the world, from an Oscar, A Golden Globe and a BAFTA, to Bodil in Denmark, Italy, Japan and the Critics Circle in New York. It really doesn't need me to tell you- deservedly so. If you haven't seen it, take this opportunity and delve into the Italian Neo-Realist movement and see what all the fuss is about. An ageless story told with a fluidity, clarity and a peerless emotional power that still glisters like diamonds in grime. There are a few perfect films out there and this is one. AR
SEE THIS ON THE BIG SCREEN AT THE BFI SOUTHBANK DURING AUGUST
httpv://www.youtube.com/watch?v=xmth0tVsdhU