Dir: D W Griffith | Cast: Jean Hersholt, Phyllis Haver, Belle Bennett, Sally O'Neil | US Drama 88′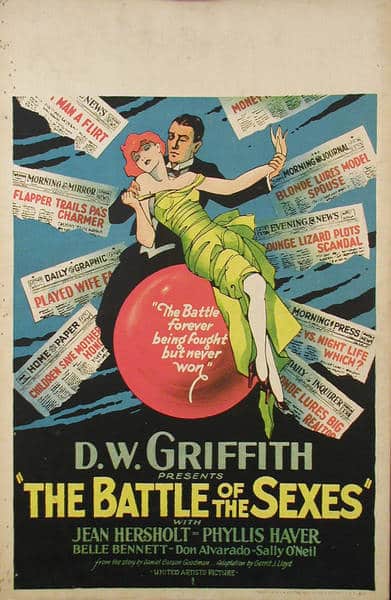 It tends to be forgotten that D.W.Griffith continued busily turning out feature films into the talkie era, and on the rare occasions that these later films are ever acknowledged it's usually just to dismiss them as the dying embers of a burned-out career.
Griffith's 1928 remake of his lost 1914 feature film The Battle of the Sexes – historically noteworthy as his last entirely silent film – turns out to be a lively, intimate contemporary comedy-drama embellished with little visual flourishes like indoor tracking shots and overhead shots (probably suggested by cameraman Karl Struss) rather than the more saucy piece of fluff the rather schematic title seems to promise.
The opening sequence with Phyllis Haver having her frizzy peroxide blonde hair dressed in a salon adjacent to millionaire Jean Hersholt on whom her gold-digging eye alights suggests a typical jazz age comedy vehicle for Miss Haver fresh from playing Roxie Hart in Chicago; an impression reinforced by the sequence that follows in which she engineers their 'accidental' meeting in the apartment building in which he and his family live and she has somehow managed to rent a place for herself.
So far so amusing. But this is Griffith we are talking about, and the devastating impact of Hersholt's dalliance on his family is conveyed with sufficient force to turn the comedy into drama; and the focal point of the film becomes Sally O'Neil as the daughter. (The visual contrast between the petite, bird-like brunette O'Neil and big blonde Phyllis also adds additional weight to their confrontation). Although all eventually ends well, Hersholt hasn't returned to his wife because of his love for her overcome his desire for Haver, but only because he is presented with incontrovertible evidence even he can't ignore that she was only ever after his money. The formulaic happy ending remains overshadowed by the mother's earlier despairing words "It's too late now" delivered by a drained-looking Belle Bennett; and it seems unlikely that this family will ever return to the idyllic state we witnessed at the beginning of the film. @Richard Chatten
ON PRIME VIDEO