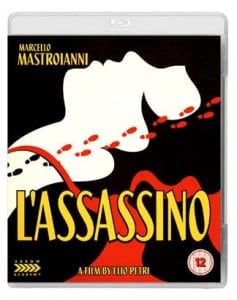 THE ASSASSIN (L'ASSASSINO)
Dir.: Elio Petri; Cast: Marcello Mastroianni, Micheline Presle, Salvo Randone, Christina Gaioni; Italy 1961, 105 min.
This is the first feature film of Elio Petri (1929-1982), who would become famous for Investigation of a Citizen above Suspicion (1970) and The Tenth Victim (1965). He tells the story of the antique dealer Nello Poletti (Mastroianni), who is one day accused of murdering his former lover Adalgisa de Matteis (Presle). During the investigation we learn that Nello has exploited Adalgisa, who is much older than him. She has set him up with a luxury antique-shop, but he still has debts and a new lover, the young Antonella Nogara (Gaioni), daughter of a rich industrialist. On the night of the murder, Nello had visited Adalgisa in a hotel near the coast, where he slept with her for the first time in a very long time, wanting her to pay a huge loan he owned the bank. Whilst we learn a lot about Nello (all rather damning) during the course of the investigation, led by the enigmatic inspector Palumbo (Randone), he is cleared of the murder, and for a time Nello seems repentant. But when we meet him again a year later, he sleeps with the now married Antonella, and is back to his old semi-criminal existence, calling himself laughingly 'the Assassin'.
The monochrome photography shows a realistic portrait of Rome, far away from the splendour of Fellini or Antonioni. Nello is a real sleaze bag, and Mastroianni fills his shoes perfectly. With a chip on his shoulders, because of his upbringing in a poor quarter, he exploits everyone and everything around him; mainly woman, who fall for his boyish charm. But behind the façade, Nello is a perpetual schemer, using his glib tongue to seduce for cash. He is an empty vessel, waiting to be filled with the goods belonging to others. Adalgisa is rather a sad case: whilst looking right through Nello, she stills wants him in perverse way, even if it means paying his debts whilst he sleeps with Antonella, whom she introduced him too for exactly this purpose. Nicoletta is just a younger version of Nello himself: playing him at his own game, and soon to tire of his antics. Inspector Palumbo is the most sophisticated character: world weary and tired, he plays the game more than being a policeman. Sated with a life in the world of crime, he is just waiting to retire. We see a lot of storylines and characters of later Petri films, they are invariably studies of men being guilty, even if not in the eyes of the law. AS
ON ON DVD FROM 21ST JULY 2014
Arrow Academy is proud to present the first ever UK video release of L'Assassino in a gorgeous high-definition restoration created by the Cineteca di Bologna.
This deluxe package will be full of special features and bonus material including:
· New 2K digital restoration from the Cineteca di Bologna
· Uncompressed Mono 2.0 PCM Audio
· Elio Petri and L'Assassino, an introduction by Italian cinema expert Pasquale Iannone
· Tonino Guerra: A Poet in the Movies: Nicola Tranquillino's documentary about the great Italian screenwriter
· Theatrical Trailer
· Reversible sleeve featuring original and newly commissioned artwork by Jay Shaw
· Booklet featuring new writing on the film by Elio Petri expert Camilla Zamboni, Petri's own critical analysis of 1950s Italian cinema, plus a selection of contemporary reviews