Director: Fernando Trueba       Writers: Fernando Trueba, Jean-Claude Carriere
Jean Rochefort as Marc Cros,
 Aida Folch as Mercè, Claudia Cardinale as Léa Cros, Chus Lampreave as María 
with Götz Otto as Werner, Mateo Deluz as Henri, Martin Gamet as Pierre and Christian Sinniger as Emile
Marc Cros was a French sculptor who associated with Cézanne and Matisse. In Fernando Trueba's arthouse drama, we meet him during the 1940s working quietly from his studio in an idyllic corner of the French Pyrenees and married to the vivacious and supportive Lea (an exuberant Claudia Cardinale).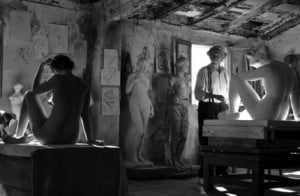 Lanqourous and lushly photographed in black and white, Jean Rochefort  gives a masterful performance as the ageing Cros, who slowly develops a bond with a local Catalan girl Merce (Aida Foch), who has recently escaped the Civil War in Spain and with Lea's blessing, becomes his model.  Not just a pretty face, or a naked body for that matter, she revives the old man's dormant creativity and keeps him in his place, gradually emerging as a sharp-witted accomplice with a keen knowledge of the local countryside which she uses to help Pierre (Martin Gamet), a local resistance fighter.  An an historian friend, Werner (Gotz Otto), also visits the studio to discuss work and Chus Lampreave injects a spark of comedy as the housekeeper Maria.
If you've recently seen Gilles Bourdos's film RENOIR, there are similarities here in that Trueba and his co-writer, Jean-Claude Carriere, one again refuse to let any real dramatic punch intrude into the innate lanquidity of the storyline so although Daniel Vilar's liquid velvet visuals are endlessly seductive to the senses, THE ARTIST AND THE MODEL ultimately fails to engage  the emotions. MT