Dir: John Huston | Katherine Hepburn, Humphrey Bogart, Robert Morley | US Drama 105'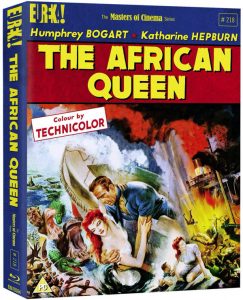 The African Queen, is one of the best romantic adventures to come out of the First World War. Adapted from a novel by C.S. Forester, this rollicking rollercoaster sees Bogart and Hepburn as an unlikely couple forced to travel together down a hazardous East African river.
Katharine Hepburn plays Rose Sayer, the unmarried sister of a prim British missionary (Robert Morley). When occupying German forces pitch up in her village, killing her brother, Bogart comes to the rescue in the shape of raddled old captain Charlie Allnut (a role that won him his only Oscar), whisking her away in his rambling tramp steamer called the African Queen. But the voyage is more eventful than either could possibly imagine. And from their intense hatred of one another develops a sparky romance that carries them through against the odds. And they sail towards calmer waters united by their battle against the Germans.
The African Queen is one of the most popular films in the history of cinema, and may well be the perfect adventure film and certainly is one of the best literary adaptations ever to hit the big screen.
THE AFRICAN QUEEN is available from 18 November 2019 EUREKA