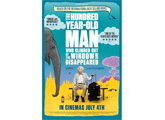 Director: Felix Herngren
Writers: Felix Herngren and Hans Ingemansson
Cast: Robert Gustafsson, Iwar Wiklander, David Wiberg, Mia Skaringer, Jens Hulten
114mins  Comedy Adventure  Swedish with subtitles
If you enjoy Scandinavian comedy then you'll probably get on well with this slightly off-piste yarn and its picaresque humour. Based on the best-selling novel by Jonas Johansson, it follows the adventures of Allan Karlsson (Robert Gustaffson) who escapes from his nursing home during celebrations for his 100th birthday and heads off into the country, accidentally acquiring a suitcase of stolen money on the way.
After a lifetime of studying explosives and inadvertently advising on the Atom Bomb, Mr Karlsson is no shrinking violet and determined to live life to the lees. And despite his advancing years he's rather a spritely go-er. When the dozy criminal gang come after him for their ill-gotten loot, the canny old vodka-drinking Swede takes it all with a pinch of salt, out-witting them slowly but surely with his philosophical frame of mind. The narrative flashes backwards and forwards incorporating key moments of his colourful life that involved meeting with war heroes and villains alike: Stalin, Franco and Kim Il-sung, to name but three.
Joining Karlsson on this dawdling and increasingly whimsical road movie are a range of weird characters: a voluptuous Swedish blonde, a perpetual student, and an over-excited elephant. The old man remains sanguine through thick and thin, reflecting the wisdom of his years: With not much longer to go, his take on life is why sweat the small stuff or the big stuff, for that matter. There's a bizarre quality to this film that somehow makes Karlsson an admirable figure with his relaxed mindset and cool detachment in the face of all the slapstick silliness around him.
Playing both the younger and older Karlsson with a certain aplomb, Gustafsson is purportedly Sweden's funniest man but doesn't over-labour the gags; a point in his favour – as most are not funny at all.  Unfased by danger and his brushes with the Great, Good and the downright absurd (both past and present) Karlsson slides along by the seat of his pants, making his genial good humour about the only appealing factor in the light-hearted tedium.
ON GENERAL RELEASE FROM 4 JULY 2014