DIRECTOR: STUART BLUMBERG         WRITERS: STUART BLUMBERG, MATT WINSTON
CAST: Mark Ruffalo, Gwyneth Paltrow, Tim Robbins, Joely Richardson, Patrick Fugit
112min   US Romcom
Following on from Steve McQueen's Shame, this is not the first time sex addiction has been explored in contemporary cinema. However, although Stuart Blumberg's Thanks for Sharing is not quite as intense or dark as the former  – tackling the subject matter in a far more jovial manner; the The Kids Are All Right writer offers a picture equally as poignant with his directorial debut.
We follow three friends who meet at 12-step meetings to help combat their unhealthy addictions to sex. At the heart of our story is Adam (Mark Ruffalo) who is five years 'sober' and now feeling ready to meet women again and attempt to strike up a relationship. However when he meets Phoebe (Gwyneth Paltrow) he falls in love, but struggles to overcome his previous habits. He seeks help from his mentor Mike (Tim Robbins), who has problems of his own, as his drug-addicted son (Patrick Fugit) has just shown up out of the blue. To complete the cycle, Adam himself is also a mentor, but to a young man named Neil (Josh Gad), who is desperately seeking help, as his sexual deviance has landed him in trouble on several occasions. We intertwine between these three corresponding lives, and see how each individual relies heavily on the next to get through this challenging treatment.
Thanks for Sharing treads the line between comedy and drama masterfully, portraying sex addiction sincerely, giving it the gravitas it deserves and considering it as a genuine disease. However the often frivolous nature to the film allows for us to see the humorous elements too, easing us into understanding and appreciating the true severity of the condition. That said, Blumberg can be accused of being overly lighthearted at points, particularly at the start when introduced to Neil. He is the comedic figure of the piece, providing the film with the vast majority of its witty one liners – but he is actually a sexual predator with a dangerously perverse outlook on life, and the sexual abuse he carries out is inappropriately depicted as humorous. Though jokes are a necessity within Thanks for Sharing, sometimes they are implemented in the wrong places.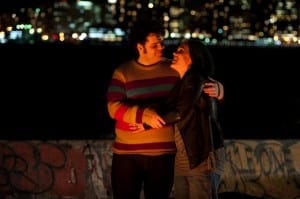 Nonetheless, the story is structured ingeniously, as we weave in and out of our lead characters' lives effortlessly, each individual story being substantially told. We care enough about each and every character and their own personal journeys, enough so that at the end we are intrigued to see how each one will conclude. Blumberg must be commended for this, as many ensemble pieces fall at this very hurdle. Much of why we are so empathetic to the characters is as a result of the screenplay, with each role crafted beautifully and the dynamics between each varying relationship perfectly judged. There are several themes at play too, such as romance, friendship, addiction and family matters – and these are all dealt with well, with every plot-point being given enough screen-time for us to invest emotionally in each one.
Thanks for Sharing is a picture that could so easily be underwhelming, dealing with various themes we have seen done to death in Hollywood – yet this avoids cliches. It may be overly melodramatic at times, yet Blumberg manages to steer away from ever feeling mawkish or over-indulgent in the slightest. He may have crafted a reputation for himself as a valuable screenwriter, but now it seems that he is equally as adept at directing, with a bright future certainly beckoning. STEFAN PAPE
THANKS FOR SHARING IS ON GENERAL RELEASE FROM 4TH OCTOBER 2013 at Vue Cinemas, Odeon Cinemas Cineworld and Shortwave Bermondsey