Dir/Wri: Christopher Nolan | John David Washington, Robert Pattinson, Elizabeth Debicki, Kenneth Branagh | Action Adventure Sci-fi | 150′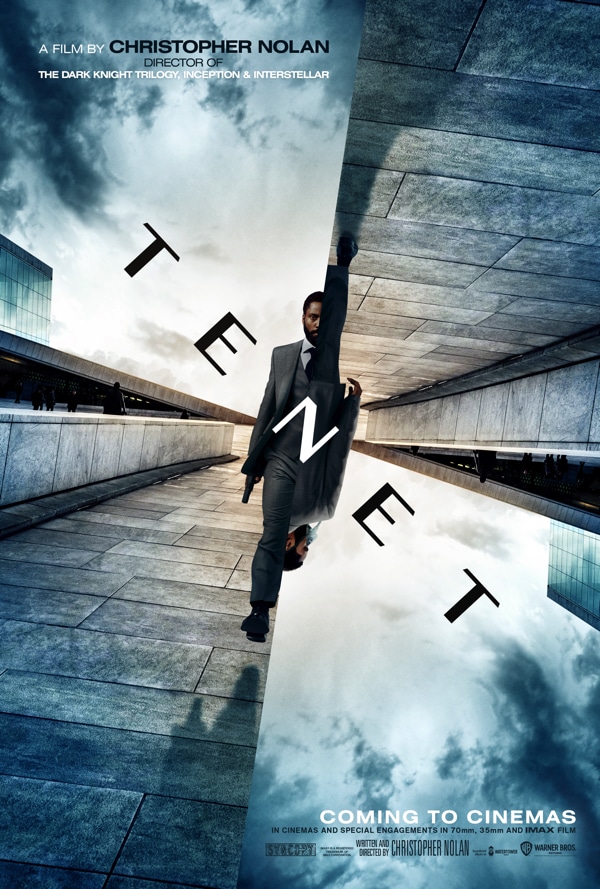 Missing a dose of international travel this Summer? Bold, bewildering and brilliantly spectacular, Tenet takes you to the most glamorous corners of Europe and beyond in an action-packed peripatetic two and a half hours that will make a dash for the nearest airport tempting, quarantine or not.
Attention spans may flag in the final hour where the complex narrative trips itself over, ambitiously conflating an over-demanding Sci-fi idea with a slick action-packed espionage thriller: The former detracts from the latter, enjoyment-wise. But overall Tenet is up there with the best of the Bond films, and this time 'James Bond' is played by John David Washington.
Nolan has always loved the notion of time: Memento, Interstellar and Dunkirk have played about with the concept. Tenet does the same. This is not a film about time-travel, but a complicated idea about replaying the past that is actually the film's Achilles heel. And although this is constantly explained from one character to another, by the end nobody really gets the bullets that go backwards – back in time that is – and the "technology that can reverse an object's entropy" – according to Clemence Poesie's tight-lipped scientist in the films opening scenes. Car chases and combat scenes are played backwards in discombobulating ferociousness. So best to sit back and enjoy the astonishing scenery and set pieces and the charisma of Pattinson, Debicki and Branagh, who is so vicious as her husband – a misogynist Russian gangster – he almost makes you want to laugh out loud at the absurdity of it all.
There a some astonishing sequences thanks to DoP Hoyte Van Hoytema (who was Oscar nominated for Dunkirk): after an astonishing siege at the Kiev Opera House, Pattinson and Washington ('The Protagonist') scale the front of a vertiginous apartment building in Mumbai; he then joins Debicki and Branagh for an electrifying chase in a high speed catamaran, all driven along by Göransson's pounding sound design. There are brutal fight sequences  involving meat tenderisers and cheese graters, and an amusing finale where Debicki wreaks revenge on her control freak husband on the deck of his luxury yacht moored off the coast of Vietnam. It's all very bold but believable.
The cast is superlative: you can't take your eyes off Robert Pattinson's tousled-haired, linen-suited Neil who has an edgy glamour suggestive of a foxy foreign correspondent in some Mediterranean backwater. He also does action man well, having honed his body since the Twilight years. Washington is all muscled, melodious-voiced and masterful, never hinting at anything but well-intentioned professionalism. Kenneth Branagh comes late to the party, but is well worth waiting for as the hard-nosed arms trader Andrei. "How would you like to die": he snarls at Washington "of old age" — comes the casual reply.
Clearly Nolan has spent a great deal of time thinking through his premise, it's a shame then that nobody seems to understand how it all fits together, least of all the audience (ideas – on a postcard, are welcome). But the espionage element is thoroughly enjoyable, along with the serrated-edge love hate romance that sees Debicki as a vodka slurping virago one minute, and an Hermes-clad mummy the next.
In this first big cinema blockbuster post lockdown, Tenet once again shows Christopher Nolan at the top of his game when it comes to high octane thrills and magnificent mise en scene. Sorry Netflix, you've had your moment – the big screen is where cinema is and always will be. MT
IN CINEMAS FROM 26 AUGUST 2020 NATIONWIDE