Dir: Matt Wolf, Cast: Jena Malone, Ben Whishaw, Alden Ehrenreich
USA 2013, 78 min.  DOC
What did we call teenagers before the term was invented in the years after the Second World War in the USA?  Matt Wolf's informative history of the young and rebellious (based on Jon Savage's book) answers this and many more questions. With exhaustive documentary material and some clever docu-drama, Wolf tells the story of teenagers in England, the USA and Germany from the beginning of the 20th century. There was the abolition of child labour, but also the culling of millions who died in the trench-slaughter of the Great War. The years between the wars was filled with rebellion against the old, who had sent the young to die. Music always played an all important role in the youth movement, flappers and swingers of the 30s being the best known examples. And there was Brenda Dean Paul in the UK, who was a first for glamour, drugs and self destruction.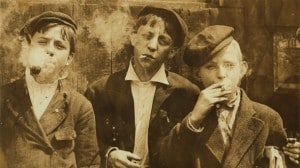 Particularly interesting are the German segments of the film. Melita Maschmann is  a BDM (Association of German Girls) member in Hitler's Germany (NOT the Hitler Jugend, the male arm of the movement, as the film claims, since the Fascists kept the genders well apart). First Melita likes the travelling and campfires, than she "has" to loose her Jewish friends to be part of her peer group. And then comes the trauma of the War, at the end of it the loss of her identity. But there were also young rebels against Hitler, like Tommy Scheel; who organised a Jazz club in the late 30s  knowing very well that this sort of "Nigger music" was forbidden by the Nazis. He could escape to the USA, but many of his friends were caught be the Gestapo and hanged.
Interweaving rare archive footage with vibrant colour images, Wolf touches also on the problem of racism in USA itself. A young black soldier says in an interview after the war, "in the war we are equals, but now were are the enemy". And again it is the music, in this case hip-hop and jazz, which is the manifestation of youth rebellion – black and white.
TEENAGE is thorough, well-researched, witty and always as energetic as its subject-matter. Andre  Simonoviescz
TEENAGE IS NOW ON DVD