Russian auteur Andrei Tarkovsky influenced many contemporary filmmakers, amongst them Lars Von Trier, Claire Denis, Steven Soderbergh and Nuri Bilge Ceylan.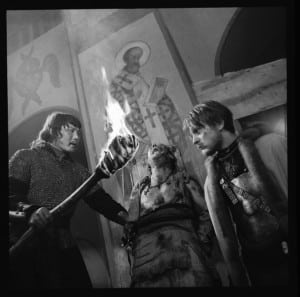 All seven of Tarkovsky's features including MIRROR (1975), SOLARIS (1972), STALKER (1979) and ANDREI RUBLEV (1966) (left), IVAN'S CHILDHOOD (1962), THE SACRIFICE (1986)  and NOSTALGIA (1983) appear on Blu-ray in the much-anticipated Andrei Tarkovsky box set (Tarkovsky.co.uk)
Andrei Tarkovsky (1932-1986) was born in the same year as François Truffaut and Nagisa Oshima. His father, Arseny, was a poet like Bernardo Bertolucci's father. Tarkovsky called Tolstoi's "War and Peace" his 'art school'. He studied Arabic before attending film school. Even though he was not very fond of Sergei Eisenstein, the Stalinist censors both liked their first film – in Tarkovsky's case Ivan's Childhood (1962) – but it was censored. Like Eisenstein before him, Tarkovsky was not an easy man to work with. Derek Malcolm reported from the set of The Sacrifice, shot on the Faroe Islands in Sweden, that the British actress Susan Fleetwood shivered in her nightgown for over thirty minutes waiting for Tarkovsky to turn up because, as a production assistant later related, the director was adjusting his scarf in front of the mirror. And after a house was burned down during the shooting of the same film, some parts of the footage was lost due to a defective camera; the director was not happy with the rest of the material, and asked for a completely new house to be built.
The Russian auteur's films are not about anything in particular; they show a cosmos of everything. "You can't materialise eternity", the director said. "And since the world we live in is enigmatic, the images should be the same." We cannot really classify  Solaris a Sci-fi film, or Stalker an adventure film – but in both cases the narrative (if we can call it such) is just a pretence. So be prepared to "live" in his films, go with the slow flow and they will take your breath away.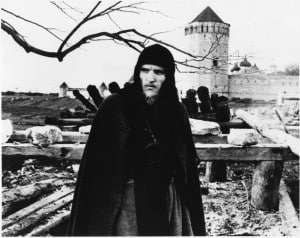 ANDREI RUBLEV (1969) was a startling achievement. In 205 minutes, the director dramatises the life of the great medieval Russian painter, the episodes are divided in eight chapters. The world of Andrei Rublev, who painted religious icons, is brutal (the infamous death of the horse will upset animal lovers) and chaotic. There is darkness everywhere, and the gloom only lifts in the last scenes, when the black-and-white changes into colour. The film was forbidden in the USSR until 1971, and western versions run with cuts of more than thirty minutes.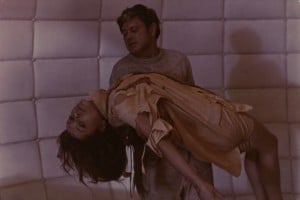 SOLARIS is Tarkovsky's only love story, based on the novel of the Polish writer Stanislaw Lem. As Hoberman pointed out, Solaris very much resembles Hitchcock's Vertigo. Unlike in most Sci-fi films, there are no gadgets or special effects. When Kelvin, a psychologist, arrives at the space station of the ocean planet Solaris, he finds a artificial manifestation of his death wife Hari, who killed herself ten years ago. Kelvin, still feeling guilty, is only too happy to relate to the 'new' Hari, even though he fears that she is just a machine. But her second suicide is harrowing, and Kelvin literally flees back into his childhood. Solaris is by far the most emotional of his films.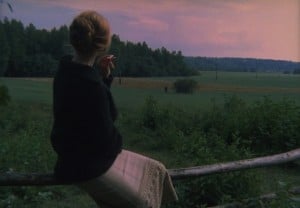 MIRROR is a stream-of-consciousness, totally without any narrative. The narrator, on his deathbed, looks back on his life. The only structure is the time-setting: pre-war, war and post-war. Mirror is the best example of his "sculpting in time" approach to filmmaking: images and sound (in this case classical music) melt into a memory lane in which the time frames are interchangeable. Sometimes the film is labelled as metaphysical and it is hardly surprising that the censor's of the USSR tried even to ban any export of the film, helping to make it into a legend. (The title is on long release at the BFI)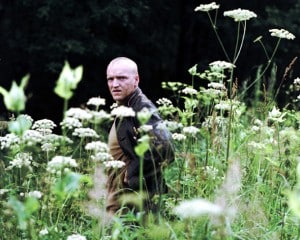 STALKER , based on the novel 'Roadside Picknick' by Arkady and Boris Strugatsky (whose novel 'Hard to be a God' was filmed twice), and tells a story about post-nuclear Russia. Stalker, a man of near super-natural powers, guides a writer and a scientist into the Zone – a fearful place deep underground – a forbidden location, where intruders are threatened with long prison sentences. There are some Sci-fi elements, but unlike Solaris, the narrative somehow holds the action and the meta-physical and spiritual world together. Brown monochrome sepia tones and an abundance of water in all forms (one of the director's favourite themes), create an end-of-world atmosphere, a surreal place of decay and Wagnerian 'Untergangstimmung' .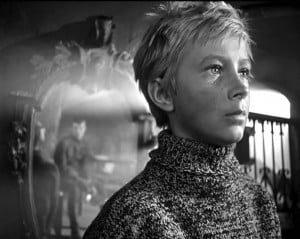 Tarkovsky's first feature IVAN'S CHILDHOOD (1962), tells the story of 12-year-old Ivan who, orphaned by Hitler's invading troops, becomes a scout for the Soviet army, risking his life slipping between the marshy front lines. Ivan's Childhood won Tarkovsky notice in the West by being awarded the Golden Lion at Venice.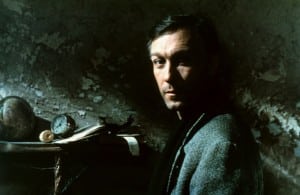 In the early 1980s, Tarkovsky left Russia permanently; his filmmaking career started again in Italy where he followed a TV documentary TEMPO DI VIAGGIO (1983) with NOSTALGIA (1983), written in collaboration with the distinguished screenwriter Tonino Guerra (right). In Nostalgia a Russian writer tours Tuscany with his translator, researching a suicidal 18th century Russian composer. Homesickness and despair frustrate him until he meets Domenico, a madman, who convinces him to take on a task – walking a lit candle from one end of a spa pool to the other – to 'save the world.' By the time Tarkovsky started work on his next and final film, THE SACRIFICE (1986) he knew he was seriously ill with cancer. A Swedish production, The Sacrifice is an allegory of self-sacrifice in which a man played by Erland Josephson gives up everything he holds dear to avert a nuclear catastrophe. The use of Josephson and cinematographer Sven Nykvist, both of whom were best known for their collaborations with Ingmar Bergman, indicate the influence of the Swedish director, one of the few directors that Tarkovsky really admired.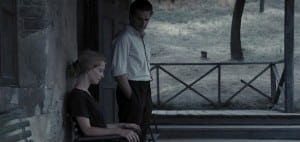 Many contemporary filmmakers have been influenced by Tarkovsky; from Béla Tarr and Lars Von Trier to Claire Denis and Steven Soderbergh. Many of his influences are clear – the long takes in Béla Tarr's WERCKMEISTER HARMONIES (2000) and Steven Soderbergh's take on SOLARIS (2002), while some directors such as Lars Von Trier, Aleksandr Sokurov and Carlos Reygadas have explicitly cited his influence. The season will include screenings of Von Trier's The Element of Crime (1984), Sokurov's Mother and Son (1997) and Reygadas' Japón (2002). Other work deeply indebted to Tarkovsky which will be screened will include Andrei Zvyagintsev's The Banishment (2007) Claire Denis' The Intruder (2004) and Nuri Bilge Ceylan's Distant (2002), the latter of which even uses a sequence from Stalker as humorous counterpoint to a porn film on TV. For many great directors such as these, Andrei Tarkovsky remains their guiding spirit. AS
THE ANDRE TARKOVSKY BOX SET | SCULPTING TIME | AVAILABLE WWW.AMAZON.CO.UK