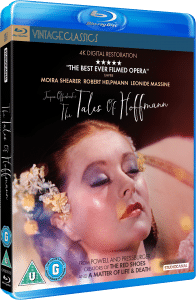 Dir. Michael Powell, Emeric Pressburger
Cast: Moira Shearer, Ludmilla Tcherina, Ann Ayars, Robert Rounseville, Leonide Massine
UK 1951, 138 min.
Jacques Offenbach's The Tales of Hoffmann was his last, unfinished work, his only serious opera. After the success of THE RED SHOES, Michael Powell and Emeric Pressburger looked for another ballet related project; in particular Pressburger, whose first love was music, wanted to realise the idea of "a composed film". Whilst Moira Shearer, the star of THE RED SHOES had made clear, that she was never going to act in another film, Pressburger eventually talked her into appearing in THE TALES OF HOFFMANN, which was introduced as an 'Archers' production in October 1949; Alexander Korda's 'British Lion Film' would distribute.
The poet Hoffmann (Rounseville) falls in love with Stella (Shearer), a ballerina. Watching her on stage, his leaves and wanders into a tavern, where a group of students ask him to tell them stories. His three stories are all connected by disappointed love: Olympia (Shearer) turns out to be a mechanical doll, Giuletta (Tcherina) wants to steal Hoffmann's soul, and finally, Antonia (Ayars), a consumptive opera singer, dies whilst singing an aria. Hoffmann himself collapses at the end of his last story, just when Stella enters the tavern. She is lead away by Hoffmann's eternal rival. But the muse of Poetry appears, and beckons Hoffmann to chose a life in the service of literature.
The film's music is conducted by Sir Thomas Beeacham; of the cast, only Ayars and Rounseville sang. This was not a problem, since the film was shot entirely as a silent film (later to be dubbed in a studio), on the old silent stage at Shepperton studios, the largest in Europe, which had been constructed for THINGS TO COME in 1936. Shooting took place from July to the end of September 1950. When Korda was first approached by Pressburger and Powell about the project, he asked innocently, if any of the film makers had actually seen a stage version. Powell admitted that he never did, whilst Pressburger could claim to have played the second violin in the orchestra during performances in Prague, but "from where I sat, I could not see much". Korda bought the duo tickets for a performance of he opera in Vienna, but their plane was delayed, they landed in the Russian zone, and had to wait for visas into the British zone, where the performance was held – they entered the theatre finally, when Antonia gave up her ghost.
The film was premiered on 1st April 1951 in New York, and seventeen days later in London, Queen Mary, Lauren Bacall and Humphrey Bogart being in the audience. Critical acclaim was great, but the film just recouped its production costs, being only shown in selected cinemas. On April 20th, the film was shown at the Cannes Film Festival, where it won two awards. According to Powell, he had a fight with Korda and Pressburger, who both wanted to cut the third act of the picture, as to enhance its chances of winning the "Golden Palme". This is highly unlikely, since there were only two days between the London and Cannes performance, hardly time for a recut – and Kevin Macdonald, who wrote Pressburger's biography, claims, that "Powell wanted to see things as he saw them, not like they happened". But THE TALES OF HOFFMANN was the beginning of the end for the working relationship of the Powell/Pressburger duo, they seemed to have been a lack of trust, which resulted finally in them going their different professional ways. AS
A 4K RESTORATION WILL BE AVAILABLE ON BLU-RAY/DVD FROM 23 MARCH 2015, AS PART OF THE STUDIOCANAL VINTAGE CLASSICS COLLECTION
Introduction from Martin Scorsese
Interview with Thelma Schoonmaker