THE LIFE AND WORKS OF RICHARD WAGNER
Dir.: Carl Froelich, William Wauer; Cast: Giuseppe Becce, Olga Engl, Manny Ziener, Ernst Reicher, Miriam Horowitz: Germany 1913, 96 min.
Whilst this newly restored version of the silent film was accompanied at the piano with a new score by the composer Jean Hasse, the original production had no music by Wagner at all: Cosima Wagner, still alive in 1913, wanted the princely sum of half a million Reichsmark if she allowed her husband's music to be played. But the directors got lucky: the main actor, Giuseppe Becce, who bore an astonishing resemblance to the real Wagner, happened also to be a gifted composer. The narrative shows Wagner as the victim of circumstance, mainly his debtors and other, jealous composers, like the Jew, Giacomo Meyerbeer, who is shown as dubious and without any real influence. Wagner's womanising is romanticised, everything is motivated by his art. There is an involuntary funny appearance of the Russian anarchist Bakunin, who looks more like Rasputin than a revolutionary. The film relies mainly on excerpts of Wagner's work, which is not very surprising, since film was at the time before  WW1 mainly filmed theatre. The production design (by Wauer) is highly imaginative and the camera tries to be as mobile as possible. Performances are over-dramatic and histrionic, but again totally in harmony with the practice of the era. Overall, this very sanitized version of Wagner's life is often monotonous, showing no ambivalence, reducing the film to a hero's portrait.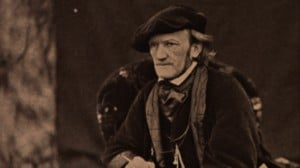 Richard Wagner will always be a controversial figure – not so much because of his music, which is after all a matter of taste, but because of his virulent anti-Semitism, making Adolf Hitler ("You can't understand National Socialism without understanding Wagner") his number one admirer. When Hitler saw Wagner's first opera "Rienzi" (which ends with the total distraction of the hero's world) he exclaimed "Exactly, how it should be, never give in, better to die than to survive", expressing his fatal 'all or nothing' attitude, which saw any compromise as weakness.
It is ironic that one of the directors, Carl Froehlich, (WAGNER being his debut), ended up as the leader of the "Reichsfilmkammer", where he controlled the German film industry between 1939 and 1945, not only being the chief censor, but deciding who could work and who not. His co-director of 1913, William Wauer, fell into the latter category: he was forbidden to work. Froehlich was later imprisoned by the Allies, and was second only to the infamous Veit Harlan in the numbers of films the directed or produced which could not be shown during the first years after the war (with West Germany being 'needed' to fight communism, 'cleaned up' versions of these "Verbotsfilme" were shown later to full houses). Froehlich was also the producer of "The Choral von Leuthen", a pro-German propaganda film, which was produced in 1932, but had his celebrated premiere in 1933, attended by Hitler, after he became Chancellor. But Froehlich also produced "Mädchen in Uniform" (1931), a very progressive film. Equally strange, his "It was a gay ball night" was premiered in the USA in November 1939, two years into the war. AS
THE LIFE AND WORKS OF RICHARD WAGNER IS AT THE BARBICAN DURING A SEASON OF MUSIC-THEMED FILM EVENTS DURING JANUARY 2014