Director: Valeria Golino  Writers: Valeria Golino, Angela Del Fabbro
Cast: Jasmine Trinca, Carlo Cecchi, Libero De Rienzo
96min   Italy/France   Drama     Italian with subtitles
[youtube id="y6D636FLP34″ width="600″ height="350″]
Italian actress Valeria Golino sees euthanasia as a necessary evil in her debut feature as director.  Screening at Cannes 'Un Certain Regard' section, this is a low-budget drama about Irene, (nickname: 'Miele') a gamine and restless woman with a questionable code of ethics who sees it her duty to assist the terminally ill to die in exchange for money.
After a brave start where she travels to Mexico to procure animal drugs for her human use, the narrative soon descends into 'lost souls' territory as Irene (Jasmine Trinca – La Stanza del Figlio) joins her patients in the melée of lost souls from varying age-groups and walks of life.
On the face of it, Irene is having a reasonable time of it and plenty of sex with her vapid  boyfriend Rocco (Libero De Rienzo). But she is unlikeable and tense as a character and fails to warm up despite Rocco's avid ministerings and the attention of a suave and sophisticated retired engineer, Signor Grimaldi, (Carlo Cecchi) who wants to die but actually ends up supporting her in a surprising volte-face.
Emotionally distant but flirtatious, Irene is also unconvincing as a 'sister of mercy' so despite Golino's excellent premise (based on the novel A Nome Tuo by Mauro Covacich) she appears to have cast Irene as lead in the wrong film, as if she's wandered in from the set of the Milliennium Trilogy . To make matters worse, the edgy tone of the piece melts away in the second half where Grimaldi comes to the fore as the father figure she never had and as the ethical slant on euthanasia retreats into the background we're left wondering: "Was this woman to be taken seriously or was she just looking for love in an extremely creative way"? If so, she certainly lucks out with Grimaldi who ends up being by far the most promising character with the wittiest lines.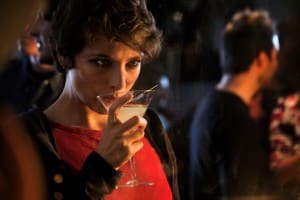 This is a stylishly artistic debut from Golino, who is certainly talented as is Trinca, in her own way, as an actress; but she seems to have started with one idea and finished with another and, in the process, failed in both attempts to bring this engaging and worthwhile  story to a satisfactory conclusion. Any similarities that have been drawn between Miele and Marco Bellocchio's euthanasia-themed film La Bella Addormentata (Dormant Beauty) are misplaced here. That is quite a different beast as it deals with the real life case of a comatose girl on life-support, which occupied the Italian media for quite some time due ethical conflicts between the Catholic Church and medical establishment. MT
SCREENING AT THE LONDON FILM FESTIVAL ON 12 AND 13 OCTOBER 2013