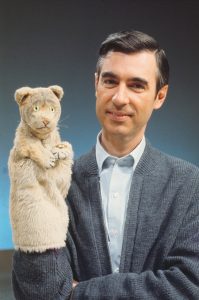 Dir: Morgan Neville | US | Doc | 94′ | With Bill Clinton, Hilary Clinton, Al Gore, Robert F Kennedy. 
In his latest documentary Academy Award-winning filmmaker Morgan Neville (Twenty Feet from Stardom) looks back on the legacy of US TV presenter Fred Rogers (1926-2003) , whose programmes during the 1950s were popular with young kids, introducing them to a broad educational agenda as well as providing light entertainment. While the nation changed around him, Fred Rogers stood firm in his beliefs about the importance of protecting childhood. And Neville pays tribute to this legacy with the latest in his series of highly engaging, moving documentary portraits of essential American artists.
Looking like a cross between Val Doonican (he donned a different cardy in each episode) and William Rees-Mogg, Fred had a calm and kindly manner in explaining, in an accessible way, contemporary political issues as well as more complex concepts such as love and divorce. He was married with his own children and advocated the government funding of children's television before a US Senate committee.
Rogers started out as an academic with a background in child development and after ordaining as a Presbyterian minister he headed for a church career, but felt an overriding need to reach out to kids through the medium of television. A pioneer of popular culture, he cared deeply about protecting the emotional needs of the nation's children. His pre-school programme Mister Rogers' Neighborhood ran from 1968 – 2001.
His onscreen manner had nothing to do with preachy didacticism. He talked touchingly about loving one's neighbour and respecting the community. And while it's easy to sneer about his caring approach and these fluffy ideals, the man comes across as a really genuine character, and buy no means a pseud – unlike Jimmy Saville. Whereas nowadays kid's attention spans are short, and TV time is precious and expensive – with a need for frequent commercial breaks, Rogers' programmes had a leisurely pace to them, and a spontaneity that allowed time and space for contemplation, and he always made sure to repeat that his young viewers were 'loved, and lovable' just as they were. He created characters such as Captain Friday (who hated change) and his own alter ego Stripey Tiger.
Won't You Be My Neighbor also engages with the idea that Rogers' fostered narcissism and a sense of entitlement by doting on his child fans, but this was hardly the case – he was simply at pains to ease their fears and anxieties so they could develop their own sense of self-esteem. In fact, it emerges that Rogers had his own share of heartache, and actually worried about whether his programmes would make a difference to children's lives in America's increasingly violent culture. Neville draws on a wealth of archive footage as well as contemporary interviews to create this warm and informative portrait of a remarkable man and his legacy, whether or not you know of this humane and public figure. MT
SCREENING DURING LONDON FILM FESTIVAL 2018 | 10-21 OCTOBER 2018