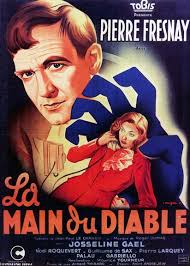 Dir: Maurice Tourneur | Writer: Jean-Paul Le Chanois | Cast: Pierre Frenay, Josseline Gaël | Fantasy Horror | France 78′
Jean Cocteau was not the only French director making wartime fantasy films on a limited budget. Jacques Tourneur's father Maurice (Ship of Lost Men) directs this tightly effective Faustian horror fantasy laced with political undercurrents. Made during the time of the Vichy government, when France was still under German occupation, the film was a subtle attempt to finger those Frenchmen who sold their souls to the Nazis in return for favours, although the narrative is based on Gérard de Nerval's short story written in 1832.
In a remote mountain hostellerie on the Franco-Italian border, a harried stranger (Pierre Frenay) blows in from the rainy night. All dressed in black, he is the Parisian artist Roland Brissot. He carries a small package and a hunted look. As the evening takes a sinister turn, enhanced by a power cut, the packed dining room is plunged into semi-darkness, and the one-handed painter tells a macabre tragedy. The previous year he had bought a supernatural talisman for the princely sum of a penny. The man who sold it to him was the owner of the famous Melisse restaurant (Noël Roquevert). And the mysterious object looked like a human hand. Overnight he developed extraordinary artistic skill and became a success, both romantically (he marries the demanding beauty Josseline Gaël), and professionally – under the pseudonym of "Maximus Léo," But there's a price to pay, not least, because the object comes with a sinister stalker in the shape of a bowler-hatted midget (the devil, played by Pierre Palau with a blood-curdling laugh). And that's not the end of it all.
Elegantly crafted by Armand Thirard (Les Diaboliques) in alluring black and white, La Main du Diable is endowed with the signature Tourneur shadow play, and this is particularly haunting during the final puppet scene. Andrej Andrejew's distinctive innovative set design gives the drama a lyrical beauty that sweeps it into the realms of fantasy, despite its realistic setting. Pierre Dumas' evocative soundtrack drives the intrigue forward as Pierre Frenay plays the classic Tourneur hero, a desperate man struggling against the tide and brought down by his emotional frailty and desire. MT
ON RELEASE AT THE BFI | 3 NOVEMBER 2018