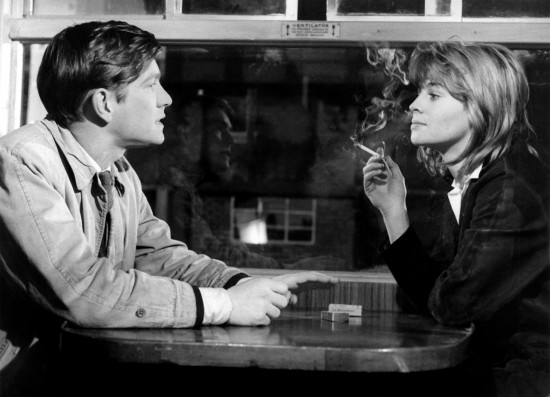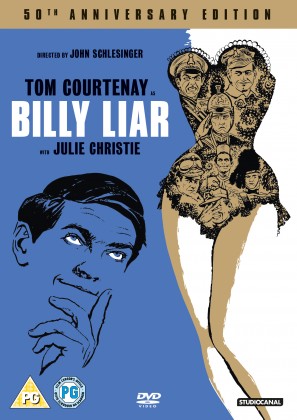 Director: John Schlesinger
Script: Keith Waterhouse, Willis Hall
Producer: Joseph Janni
Cast: Tom Courtenay, Julie Christie, Leonard Rossiter, Rodney Bewes, Helen Fraser, Mona Washbourne, Ethel Griffies, Finlay Currie, Gwendolyn Watts, Wilfred Pickles
UK                                   98mins                       1963               Drama
So called Kitchen Sink Drama, this was the second collaboration between Schlesinger and Waterhouse, following the 1962 Alan Bates Starrer, A Kind Of Loving. Schlesinger would go on to direct some seminal work, including, Sunday Bloody Sunday, Marathon Man and Midnight Cowboy, for which he won a Best Director Academy Award.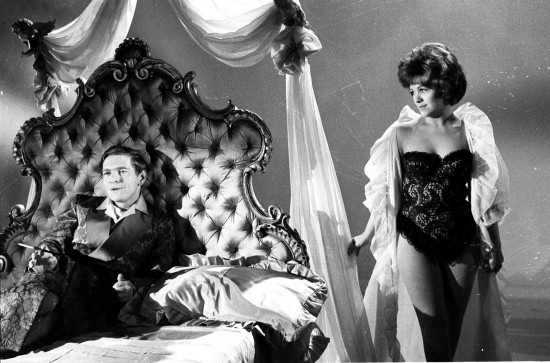 Filmed in Bradford, but depicting a never defined Northern town, Courtenay reprised his stage role, having taken over from Albert Finney, to star in the film adaptation. On the back of The Loneliness Of The Long Distance Runner, this was to cement Courtenay as a bonafide star, as well as launch Christie's career, shoehorned in at the last moment when Topsy Jane became too ill to continue filming.
Courtenay plays Billy Fisher, a frustrated 22-year-old small-town man who hasn't yet managed to shake off the overactive imagination of his childhood. His lying is now forcing him into a corner socially, workwise and also with his long suffering family, making him retreat even further into the make-believe land of Ambrosia, where he can be both understood and successful: a triumphant President, War Hero, Band Leader and whatever else takes his flight of fancy.
Judging by his complete self-interest as much as how he treats others, Fisher might be an entirely dislikeable character, were it not for his imaginary world and the very real sense that he is totally aware that he has behaved like an idiot, but simply cannot help himself. His frustration with himself as much as those around him is tangible; Courtenay is masterful in his portrayal, flitting with seamless ease through a litany of characters both imaginary and real, to the point where he runs away with himself before he has the sense to censor. It's wonderful to witness.
Shot in black and white against a backdrop of change, Julie Christie's character is the one offering a way out of the stifling, blinkered local mentality, if he can but see it for what it is and have faith. The old town is being torn down, demolished, to make way for the Brave, New, modern world being constructed in the wake of the war; old notions and ways being swept aside, much to the wistful chagrin of the older generation.
The supporting cast are wonderful: a young Rodney Bewes plays sparring partner and equal, understanding what Fisher is going through and shares much of his humour in lampooning the old guard. Also, Leonard Rossiter as the pernickety boss and Helen Fraser as the sweet local girl, wanting nothing more than a cottage, kids and the comforts of home. But it's Mona Washbourne, playing Billy's mother, who quietly runs away with this beautifully drawn film. The picture of patience and long-suffering, when there really wasn't alot to brighten up a day. Stories are seldom better than when written from the inside, from someone who knows and it's testament to great writing also when no one in a film is judged. Just observed. By 'eck it's Grand. AT
A NEWLY RESTORED VERSION OF BILLY LIAR IS OUT ON BLU-RAY AND DVD ON 6TH MAY 2013 COURTESY OF STUDIOCANAL COMMEMORATING THE 50TH ANNIVERSARY.
THE BRITISH LIBRARY WILL HOLD AN EXCLUSIVE LONDON SCREENING OF THE DIGITALLY RESTORED DVD, INTRODUCED BY CLOSE FRIEND OF KEITH WATERHOUSE, SIR MICHAEL PARKINSON, ON FRIDAY 26TH APRIL.
ITS ALSO SCREENING AS PART OF THIS YEAR'S BRADFORD INTERNATIONAL FILM FESTIVAL, HOSTED BY BRADFORD UNESCO CITY OF FILM ON SUNDAY 14TH APRIL 2013
FEATURES:
– Remembering Billy Liar with Tom Courtenay and Helen Fraser;
– Interview with Richard Ayoade;
– Interview with Saint Etienne's Bob Stanley;
– Stills Gallery
– A look through the Keithe Waterhouse Archive with British Library Curator Zoe Wilcox
tw