[youtube id="eKePoqaeokk" width="600″ height="350″]
Director/Script:  Tobias Lindholm
Cast: Johan Philip Asbaek, Soren Malling, Dar Salim, Roland Moller, Abdihakin Asgar, Amalie Ihle Alstrup
99min      English and Danish with subtitles
From the opening scenes there is a prescient doom about A Hijacking that sends cold shivers of anxiety down your spine. Told in linear narrative form by lauded scripter Tobias Lindholm, the writer behind Borgen, Submarino, and standout hit The Hunt, the strength of this story is that it feels so real. A Danish cargo ship is held up by Somali pirates in the Indian ocean, but the way that it's told has a chilling quality that keeps you on your toes throughout, hoping against hope for a positive outcome.
Shot on location off the East African coast in a real ship with its own experience of hijacking and in the sleek and architecturally magnificent offices of a Danish Shipping Corporation this is a visually ambitious film quietly realised without resorting to heightened melodrama or outlandish displays of emotion from its strung-out protagonists. It's very much a case of less is more.  And the key to success here is that 'reality rules'.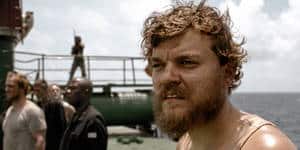 We first meet the crew through the ship's cook Mikkel, who is 'ship to shoring' his wife with the date of his homecoming. All is present and correct on board as they proceed on a normal day's sailing back to Denmark. In the next scene they are unceremoniously overcome by a brual gang of Somali pirates and forced into the hold.  Back in steely-lensed Copenhagen, bespoke besuited CEO Peter (Soren Malling) is being advised by a professional hostage and non-actor negotiator Gary Skjoldmose Porter that negotiations are better handled by an disinterested party.  Peter, begs to differ, takes full control and responsibility of the reins here not only of his company but also of his staff. The performances are understated but committed, tight-lipped and austere with the only ripples of emotion seen from the cook (Johan Philip Asbaek) and his wife Amalie (Ihle Alstrup).
What ensues is a suspense-filled battle of wits between the corporate mindset of a captain of industry Danish-style and of the criminal gangsters who have no interest or intention in playing by any rules as the tale spins out with increasing hostility and barely controlled anger over a period or several months. And it's a surprisingly discrete white-knuckled and nuanced ride, which will have you reaching for the valium in lip-biting tension until the final gut-twisting denouement delivers its final shock. MT
A HIJACKING RELEASES ON 9TH MAY 2013 IN CINEMAS ACROSS THE UK and OUT ON DVD ON FROM 16 OCTOBER 2013