---
W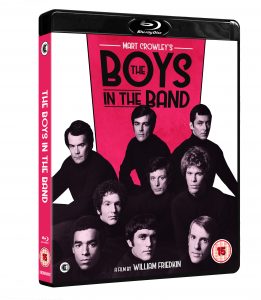 Dir: William Friedkin | Writer: Mart Crowley | Drama  | 118'
Fifty years ago, this milestone in Queer cinema The Boys in the Band was considered highly controversial, although in retrospect it's seems rather quaint with Mart Crowley's priceless dialogue making it all worthwhile (apart from the groundbreaking use of the C-word), particularly Leonard Frey's Harold gets some caustic remarks.
William Friedkin would go on to make The French Connection a year later, and The Exorcist just after that (in 1973) but this is a beast of another colour and sees a group of gay men grow increasingly antagonistic after enjoying an alcohol fuelled party in a spacious Upper East Side apartment, especially after Harold arrives.
Based on Crowley's play, and featuring the original cast, it stars a sterling selection of gay actors Kenneth Nelson, Peter White, Cliff Gorman and, of course, Leonard Frey. The play premiered off-Broadway in 1968, just as the gay rights movement was gaining momentum and aimed to portray a candid view gay life, although it sparked mixed reactions amongst the gay community for its negative stereotyping of limp-wristed and bitchy victims of their sexuality. William Friedkin's faithful 1970 screen version, has become a cult classic. But when all is said and done, LGBTQ equality has pathed the way to a better acceptance of what went before, and the piece can now be appreciated for it depiction of an oppressed group of any kind, and is by turns brutally amusing, compelling and dark.
The film plays out as a chamber piece echoing its original scale. Led by the single Michael (Nelson), a Catholic alcoholic from Mississippi and set in his ostentatious bachelor pad. Michael is throwing a birthday party for his difficult friend Harold (Frey), who eventually turns up high, with a brilliantly bombastic monologue: "What I am, Michael, is a 32-year-old, ugly, pockmarked Jew fairy — and if it takes me a while to pull myself together and if I smoke a little grass before I can get up the nerve to show this face to the world, it's nobody's goddamn business but my own."
Other guests include Donald (Combs), Michael's ex who comes back to NY to visit his shrink.  Hank (Luckinbill) is a bisexual teacher  (Tuc Watkins), who's now with photographer Larry (Prentice) although the relationship is strained by Larry's promiscuity. Bernard (Reuben Greene) is the token black guy and seems the most brooding of the group. Into the party drops Michael's straight college friend Alan (Peter White), who is on the verge of tears over his own failing marriage. His reluctance to leave nods to an ambivalence in his own sexuality, and hints that he might be hiding an uncomfortable truth from himself.
According to Friedkin, this was "one of the few films I've made that I can still watch". Released 50 years after its Broadway debut – a year before the infamous Stonewall Riots – The Boys in the Band still has the power to shock. MT
NOW ON BLURAY FROM 11 FEBRUARY 2019 with interviews with Mark Gatiss, and commentary from William Friedkin himself | COURTESY OF SECOND SIGHT