Director: Marc Isaacs
Written by: Marc Isaacs, Iqbal Ahmed
Producer: Rachel Wexler, Aisling Ahmed
UK  75mins 2011 Doc
What may seem at first to be quite an unpromising premise: the A5, Edgware Road; becomes rather an elegant elegy to the hidden, forgotten immigrant population of Britain, providing as it has a key workforce that has been underpinning the British economy for centuries.
Isaacs has evidently spent a great deal of time getting to know his subjects: A blind 95-year-old Viennese Jewish lady who lost her mother to the Pogrom, a Kashmiri Sunni Muslim hotel worker hoping to bring his wife over; two Irish, young and old; an aspiring Burmese Buddhist monk and a German ex-flight attendant living with her estranged husband. And all of them live on the Edgware Road. A route most would associate merely with getting to somewhere else.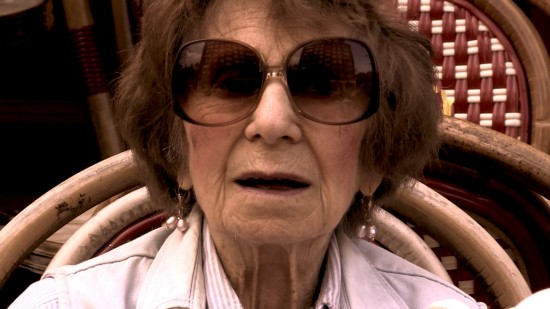 The production values are affected by the small, digital camera utilised throughout and some of the storylines are inevitably more interesting than others. But this nevertheless is filmmaking rich in content and our guide and documenter, if not subtle in his manner of questioning, has definitely won over the trust of the people he befriends in the pursuit of their story.
His evident empathy and understanding enables Isaacs to cast a light into these very ordinary peoples' lives and encourage them to share their dreams both aspirational and dead, with the audience; sometimes in a quite breath-taking way.
Keelta is a young Irish girl leaving the Emerald Isle for the Big Smoke, arriving at one end of the A5 straight off the ferry in Holyhead, full of hope for her future. Billy is a man who came over in the Sixties, worked tirelessly building Britain's future on the railway, the Eurotunnel and the roads. But his is a far more pessimistic though not embittered appraisal of life away from home. Being an outsider in Britain is no picnic. 'Always a pound short and a day late' is how he expressed a lifetime of dreams thwarted with heartfelt Irish understatement.
This doc is a real treat and tremendously moving. The filming spanned an 18-month period, so we get to see how things develop for all concerned, good and bad. It's a fascinating snapshot of an invisible London; an everyday one and the A5 is the perfect foil. One might drive down it a hundred times and never really glance right or left for any period of time longer than it takes for the lights to change.
But Isaacs forces us to slow down and take in what is a tiny sample of the very real people that live and work there and in so doing opens up a whole tapestry, a whole conversation about life and what life means; the choices we make and the ramifications thereof. Andrew Rajan.
SCREENING AS PART OF A MARC ISAACS RETROSPECTIVE FOLLOWED BY Q&A WITH THE DIRECTOR ON SUNDAY 10TH NOVEMBER AT 12.00 AT ODEON SWISS COTTAGE  tickets here