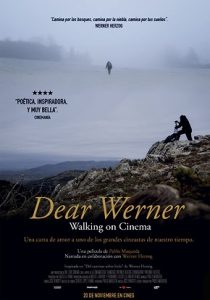 Dir.: Pablo Maqueda; Documentary narrated by Werner Herzog; Spain 2020, 80 min.
Spain's Pablo Maqueda travels in the footsteps of Werner Herzog in this filmic foray that serves both as a tribute to the veteran's 60 years in filmmaking and a study of the touchstones that brought it all to life.
The documentary is based on Herzog's own diaries (Walking on Ice) that chronicle a winter journey in 1974, when the veteran filmmaker grabbed "a jacket, a compass, and a canvas bag of essentials" and set out on foot from Munich to Paris to visit his friend Lotte Eisner who was on her last legs – but in the end survived another decade.
The writer, critic, co-founder of the Cinematheque Francaise and 'mother' of New German Cinema was seriously ill, and Herzog hoped if he reached her apartment in the rue des Capucines, Eisner would recover and continue to be a fountain of knowledge for him and other young German filmmakers. The trip was a success on all fronts.
Dear Werner takes the form of a prologue, seven chapters and an epilogue, Herzog re-wrote some of his diary records, and narrated. "The book started out as a simple travel itinerary which led me deeper and deeper into Herzog's filmography. Then I realised there was a film, in a sense, that wold talk about me through him and his cinema". Maqueda echoes Herzog's own doubts (he first features were slaughtered by the German press), when saying, "by making this film, I aimed to encourage and motivate my fellow filmmakers not to despair and to keep walking". 
In "Cave of forgotten films", Maqueda explores a real cave, imagining it as the setting for one of his own stories. He also chances upon in a huge listening device and a ski-jump hill – neither associates well with the nature-orientated images which dominate the film. Suddenly we see bears roaming around, only to discover they are actually behind the fences of a nature resort.
After crossing the border to France, Marqueda visits the War Cemetery in Charmes, and later monuments to Jean d'Arc. A chapter on Eisner's history follows: she had to flee Germany when the Nazis came to power, but ended up nevertheless in a Camp in France, whence she fled. The future director of the Cinematheque Henri Langlois asked Eisner to hide some valuable German expressionist and Russian revolutionary films in the countryside, fearing their destruction. This meant Eisner had to refrain from lighting fires during her ordeal, the nitro material being highly inflammable,
When Herzog arrived in Paris a fortnight before Christmas 1974, he was so elated he asked the recovering Eisner to: "Open the window, from these last days onwards, I can fly".
Dear Werner is a love letter to the German veteran and the cinema he represents. Maqueda comes over as a diligent pupil, sometimes waxing hagiographic about his idol – but then, so was Herzog when it came to Murnau. Maqueda presupposes his audience is as knowledgeable as he is about Herzog's canon. And those new to the party may well miss some allusions. Otherwise, Dear Werner – dedicated by the director to Maqueda's partner and producer Haizea – is a worthwhile journey. AS
SEVILLE INTERNATIONAL FILM FESTIVAL 2020