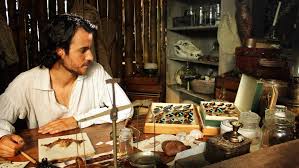 Dir: Mike Slee | Carl Knutson, Wendy MacKeigan | Cast: Calum Finlay, Ed Birch, Billy Postlethwaite, Robert Daws, Louis Partridge | Docudrama 46′
A new science detective story shows how a naturalist and explorer from Leicester provided the vital proof to help Darwin finally publish his controversial theory of natural selection, the greatest scientific explanation for the development of life on Earth.
Aimed at all audiences but particularly suitable for children this colourful, concise award-winning film combines an eco-documentary with an appealing true story that sees two young Englishmen follow their passion into the depths of the unknown, 15o years ago in the Victorian era.
Henry Bates grew up in Leicestershire where his family ran a stocking factory. But Bates' dream was to pursue his interest in insects and how they managed to survive their often hostile environment with its many predators. Together with his friend Alfred Wallace he raised finance from a local insurer Sami Stevens and the two set off to the Amazon jungle where for 11 they risked life and limb to find out how species changed.
After a month at sea the men finally arrive at the Brazilian coast where they head for the Amazon river. In order to pay for their expenses they compile a daily catalogue comprising hundreds of butterflies. But their quest to find evidence that species can change wouldn't be quick or easy. Si they decided to split up in order to cover more of the massive rainforest. Gradually evidence began to emerge. They soon discovered the sloth, and insects camouflaged as snakes. Infact, almost every living creature seemed to be in a disguise to avoid being eaten while it got to eat more. The expedition was fraught with difficulty as Bates suffered from malaria and Wallace eventually returned home after being shipwrecked in the North of the Brazil. But he managed to continue his work in the Far East, thanks to the insurance money from his accident. Meanwhile, Bates hired a native guide who introduced him to locals, who we meet face to face.
Impressive camerawork and 3D effects plunge us into the heart of the jungle, with detailed maps guiding us along the way. After six years Bates finally discovers a Longwing butterfly with six legs rather than four. It avoided being eaten due to its bitter taste. For every Longwing there was a matching mimic. The black, red and yellow colours marked it out a species in flux. And once back in Leicester in 1869 Bates was able to provide Darwin with enough evidence to prove how each had changed to constitute a new species in order to survive. In all, 8000 species were discovered by Bates. He never went back to the Amazon but his legacy lives on. Today scientists have finally been able to discover the genetic process involved in the mutation of species. MT
AMAZON ADVENTURE 3D at the BFI IMAX, and at the Cineworld IMAX in Glasgow from 15th April. Amazon Adventure is an epic and inspirational true story of a British explorer set in the heart of the amazon rainforest.