Director: Pawel Pawlikowski
Writer: Pawel Pawlikowski, Rebecca Lenkiewicz
Cast: Agata Trzebuchowska, Agata Kulesza, Dawid Ogrodnik
80mins  Polish Origin: Poland Picture: Black and White Drama 
Seven minutes into Ida, a startlingly beautiful return to Poland for UK-based director Pawel Pawlikowski, the character of Wanda Gruz stands against the window of her sparse kitchen, smoking, still in her dressing gown. Across the room sits a young novice, Sister Anna – Wanda's niece. Wanda flicks ash from her cigarette, the smoke beautifully backlit. Casually, she opens her mouth and drops the bombshell that will shake Anna's foundations to their core: 'So you are a Jewish Nun'.
Sister Anna, we learn, is really Ida Lebenstein, a Jewish girl orphaned during the Second World War. Her Mother Superior has sent her into the world to meet her last remaining relative before she takes her vows. In Wanda, she finds a bullish presence, a world-weary judge with a formidable reputation (and immunity). Anna and Wanda may be opposites in so many ways, but their characterisation is deft and multifaceted enough to allow no easy answers. When the women set out on a quest to discover how Anna's parents died, we glimpse beneath the surface, catching sight of the lasting impressions the estranged relatives will leave upon one another. Wanda believes in life, and encourages Anna to experience it in all its carnal forms – otherwise, she argues, 'what sort of sacrifice are those vows of yours?' And besides, she says later after referring to herself as a 'slut', 'Jesus adored people like me'. Perhaps, the implication goes, living 'life' does not rule out God's love? Perhaps there is room for both.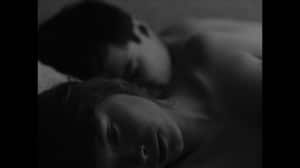 But such religious angst is not the only dilemma pounding in the heart of Ida. As the women's quest through 1960s Poland continues, the legacy of war comes under examination. Political currents ripple through Anna's personal search for her parents, causing questions of national – and international – guilt to rise to the surface. The spectre of death hovers in the air. It seems our past cannot be easily buried: perhaps we are caught in the consequences of the actions of those who came before us?
As a film, Ida too seems to be built upon forbears; the spirits of Bresson, Dreyer and Antonioni are all here, alive and well, not least in the film's stunning, 1.37:1 black and white images. If those names imply an austere coldness alongside a total mastery of the cinematic medium, then all the better – when it is handled as well as this, such a tone is surely something to commend. Ida is intensely visual, impeccably performed and quietly profound – and, at a compact 80 minutes, it may even be perfect.  ALEX BARRETT
FIPRESCI AWARD WINNER Toronto Film Festival 2013 | WINNER-BEST FILM 57th BFI London Film Festival 2013| Golden Globe Nominee (2015) | European Film Award Winner 2014 |IDA is on DVD BLU-ray from 24 November 2014