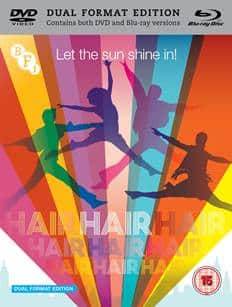 Dir Miloš Forman | Cast: John Savage, Treat Williams, Beverly D'Angelo, Annie Golden | US Comedy musical 121′
Emblematic of the so-called Swinging Sixties this zany anti-establishment smash hit musical captured the imagination of Czech director Miloš Forman who made a film of it ten years later.
John Savage plays Claude Bukowski, a naive country boy who leaves Bible-bashing Oklahoma for a journey of love and self-discovery in New York City, before reality finally bites in the killing fields of Vietnam.
The film was nominated for two Golden Globes but came home empty- handed: only the music remains in the collective memory with a string of hits such as: The Age of Aquarius and San Francisco.
Loosely based on Hair: An American Tribal Love-Rock Musical, the musical play, book and lyrics by Gerome Ragni and James Rado, the opening scene seems ludicrous today – it sees a group of hippies sashaying along a country lane extolling the virtues of masturbation, just as some rather posh women are riding by on their horses. But there's a joyful energy at play throughout this coming of age musical that sees the wide-eyed Claude (Savage) waiting for his Vietnam drafting while falling in love with a rich but rebellious 'it' girl (D'Angelo). He certainly experiences a baptism of fire – but not the one he originally had in mind back in Oklahoma. And although Hair occasionally feels cheesy and dated, there's plenty to enjoy in this provocative and sometimes downright hilarious musical memoir. MT
Celebrating its 40th Anniversary this year, HAIR will be released on Blu-ray (a UK premiere)/DVD in a Dual Format Edition by the BFI on 28 October 2019 as part of a UK-wide season, BFI Musicals! The Greatest Show on Screen.
Dual Format Edition release on 28 October 2019