Director/Script: Lake Bell
Cast: Lake Bell, Fred Melamed, Demetri Martin, Michaela Watkins, Ken Marino, Nick Offerman, Rob Corddry
90min    US Comedy ***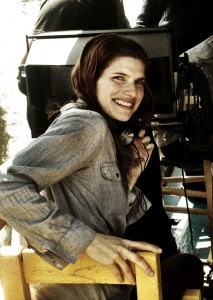 Lake Bell's debut feature is a screwball comedy drama in which she also stars as a wannabe voice-over artist who has not yet found her groove. Suffocating under the enormous ego and physical hulk of her famous father Sam Sotto (an assured Fred Melamed) who rules their roost and occupies the stratosphere of the voiceover world, he has only one younger rival Gustav (Ken Marino) to threaten his dominion over the airwaves.
The film opens with a tribute to Don LaFontaine, the famous voice artist, and this is a story about fragile egos at the top and the competitive world of show-business.  Lake Bell, as Carol finds herself suddenly ousted from the family home to make room for her father's doting younger girlfriend and into the flat of her married sister Dani, (Michaela Watkins) and her husband, Moe (Rob Cordry) who are experiencing their own problems.
In A World, has the comfortable feel of a TV soap such as 'Rhoda' or even 'Caroline in the City' with its New York Jewish humour and sharp and punchy script.  Lake Bell has perfect comic timing and an ability with accents which she trots out with a dead-pan expression as mimicking the people she meets during her day including a squeaky girl who turns out to be a lawyer. Dani plays the reliable older sister who is professional in her work, respectful and down to earth, but it's clear that these two are resentful of their father and his girlfriend and this plays out in a well-considered and believable way.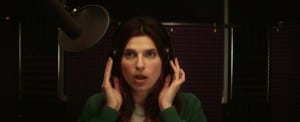 A surprise cameo from Geena Davis injects a strong feminist message in the closing scenes and Eva Longoria appears briefly attempting a cockney voice. In A World is a fresh and informative.MT