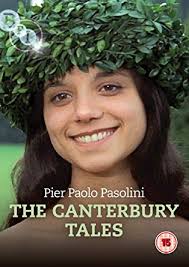 Dominating Pier Paolo Pasolini's work of the 1970s, is a trio of exuberant dramas that explore three literary classics: Giovanni Boccaccio's The Decameron (1971), Geoffrey Chaucer's The Canterbury Tales (1972) and The Thousand and One Nights (1974) (often known as The Arabian Nights). These came to be known as his 'Trilogy of Life'.
Challenging consumer capitalism and celebrating the uncorrupted human body while commenting on contemporary sexual and religious mores and hypocrisies, Pasolini's scatological humour and rough-hewn sensuality leave all modern standards of decency behind.
Full of bawdy, earthy spirit, The Decameron romps through its tales of sex and death – of lusty nuns and priests, cuckolded husbands, murdered lovers and grave-robbers – with five of the stories linked by the character of an intriguing artist, played by Pasolini himself.
Plunging with gusto into some of the blackest and bawdiest of The Canterbury Tales, Pasolini celebrates almost every conceivable form of sexual act with a rich, earthy humour. A particular delight is the use of a largely British cast, including Hugh Griffith, Jenny Runacre and Tom Baker, and Pasolini takes the part of Chaucer.
Arabian Nights was two years in the making. The locations – Yemen, Ethiopia, Iran and Nepal – form a rich, exotic backdrop to these tales of slaves and kings, potions, betrayals, demons and, most of all, love and lovemaking in all its myriad forms. Engrossing, mysterious, profound and liberating, Arabian Nights is an exquisitely dreamlike, sensuous and adult interpretation of the original folk tales.
Available on Blu-Ray from 9 September, courtesy of BFI | High Definition masters | Special features in the set include Notes for an African Oresteia(1970) and an interview with Robin Askwith about Pasolini.