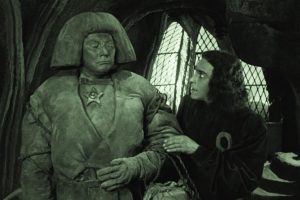 Alberto Barbera has announced a stunning line-up of highly anticipated new features and documentaries in celebration of this year's 71st edition of Venice Film Festival which takes place on the Lido from 28 August until 8 September 2018. 30% of this year's films are made by women which sounds more positive. Obviously the festival can only programme films offered for screening.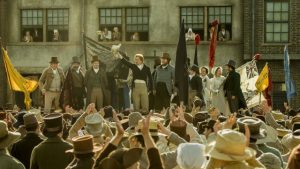 The festival kicks off on the 28th with a remastered 1920 version of THE GOLEM – HOW HE CAME TO BE (ab0ve) complete with musical accompaniment. This year's festival opening film is Damien Chazelle's biopic of Neil Armstrong FIRST MAN. There are 21 features and documentaries in the main competition which boasts the latest films from Olivier Assayas (a publishing drama DOUBLE LIVES stars Juliette Binoche), Jacques Audiard (THE SISTERS BROTHERS), Joel and Ethan Coen's 6-part Western THE BALLAD OF BUSTER SCRUGGS, Brady Corbet'smusical drama VOX LUX; Alfonso Cuaron with ROMA; Luca Guadagnino's SUSPIRIA sees Tilda Swinton playing 3 parts; Mike Leigh (PETERLOO), Yorgos Lanthimos with an 18th drama entitled THE FAVOURITE; Carlos Reygadas joins from his usual Cannes slot; and Julian Schnabel will present AT ETERNITY'S GATE a drama attempting to get inside the head of Vincent Van Gogh. Not to mention Laszlo Nemes' Budapest WW1 drama NAPSZÁLLTA, a much awaited second feature and follow up to his Oscar winning Son of Saul.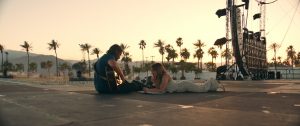 The out of competition selection is equally exciting and thematically rich. There is Bradley Cooper's directing debut A STAR IS BORN (left), Charles Manson-themed CHARLIE SAYS from Mary Herron; Amos Gitai's A TRAMWAY IN JERUSALEM, and Zhang Yimou's YING (SHADOW). And those whose enjoyed S Craig Zahler's dynamite Brawl in Cell Block 99 will be pleased to hear that his DRAGGED ACROSS CONCRETE adds Mel Gibson to the previous cast of Jennifer Carpenter and Vince Vaughn. There will be an historic epic set in the time of the French Revolution: UN PEUPLE ET SON ROI features Gaspart Ulliel and Denis Lavant (who also stars in Rick Alverson's Golden Lion hopeful THE MOUNTAIN) , and Amir Naderi's MAGIC LANTERN which has the wonderful English talents of Jacqueline Bisset. And talking of England, Mike Leigh's much gloated over historical epic PETERLOO finally makes it to the competition line-up
Documentary-wise there's plenty to enjoy: Amos Gitai's brief but timely A LETTER TO A FRIEND IN GAZA; Francesco Patierno's CAMORRA which explores the infamous Italian organisation; Frederick Wiseman this time plunders Monrovia, Indiana for his source material; multi-award winning Russian documentarian Viktor Kossalkovsky will present his latest water-themed work AQUARELA; Ukrainian Sergei Loznitsa's film for this year's festival is PROCESS (he's the Ukrainian answer to Michael Winterbottom in terms of his prodigious output) this time focusing on the myriad lies surrounding Stalinism.
Out of Competition there are also blasts from the past including a hitherto unseen drama directed and co-written by Orson Welles and his pal Oja Kodar, starring Peter Bogdanovich and John Huston; and Bosnian director Emir Kusturica is back after his rocky time On The Milky Road with EL PEPE, UNA VIDA SUPREMA. 
And Malaysian auteur Tsai Ming-liang also makes a welcome return to Venice with his drama YOUR FACE. A multi-award winning talent on the Lido, his 2013 Stray Dogs won the Special Grand Jury Prize and Vive l'Amour roared away with the Golden Lion in 1994 (jointly with Milcho Manchevski's Pred dozhdot).
Venice has a been a pioneer of 3D and VR since the screening of GRAVITY which opened the festival in 2013 amid much mal-functioning of 3D glasses at the press screening, and this year's VR features include an excerpt from David Whelan's 1943: BERLIN BLITZ which will be released ithis Autumn. This VR showcase experience is an accurate retelling of the events which happened inside a Lancaster bomber during one of the most well documented missions of World War II using original cockpit audio recorded 75 years ago. The endeavour is expected to be released on the Oculus Rift, HTC Vive, Oculus Go, Google Daydream, Samsung Gear VR and Windows Mixed Reality platforms. MT
VENICE FILM FESTIVAL 2018 | 28 AUGUST – 9 SEPTEMBER 2018