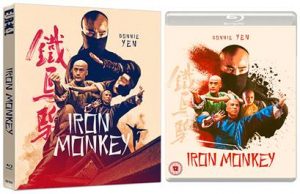 Dir: Yuen Woo-ping | Action drama | China | 90′
Yuen Woo-ping's kung-fu classic is a breathtaking action adventure from perhaps the greatest action choreographer of all time, Yuen Woo-ping's Iron Monkey combines innovative special effects and remarkable fight choreography with a classic story of courage, honour and sacrifice, all doused in deliciously dark humour.
Wong Kei-ying (Donnie Yen; Ip Man, Rogue One), a physician and martial artist, is mistaken for a masked vigilante known as the Iron Monkey (Yu Rong-kwong); a Robin Hood style hero who has been robbing the wealthy local officials in order to provide medical treatment for the poor. The two men must team up to defeat a corrupt political regime, and protect the lives of the people whose cause they champion.
NOW OUT ON BLURAY FOR THE FIRST TIME EVER COURTESY OF EUREKA MASTERS OF CINEMA FROM 18 JUNE 2018