Director/Writer: Yilmaz Erdogan
Cast: Kivanc Tatlitug, Mert Firat, Belcim Bilgin, Farah Zeynep Abdullah, Yilmaz Erdogan
140min   Drama  Turkish with subtitles
The Butterfly's Dream is a lyrical drama following the lives of two young Turkish wartime poets Rostu Omer and Muzaffer Tayyip Uslu. Their literary ambitions are set against the turbulent backdrop of World World II and unfold in 1941 in the Black Sea coastal town of Zonguldak where they are staging a play based on the local mining community, revealed in a stunning black and white opening sequence.
Gokhan Tiryaki's magnificent wide-screen visuals and an evocative and rousing original score by Rahman Altin bring this vibrant slice of Turkish history to life. And although the humour was well-received by the largely Turkish audience at the world premiere, it was rather lost in translation in the English subtitles. That said, there this is much to recommend this to cineastes not least some spectacular performances from leads Kivanc Tatlitug (a TV actor and heart throb) and Belcim Bilgin who evoke the consumptive artists with palpable pain and creative insight.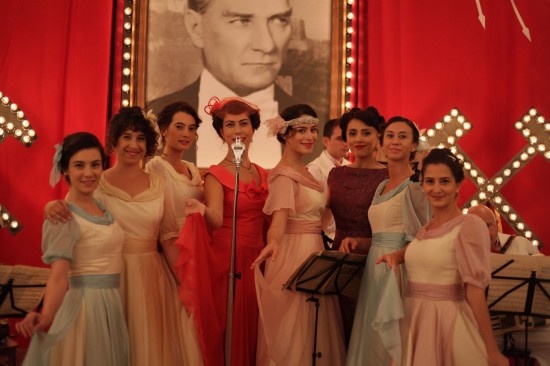 This story within a story shows the poets engaged in the writing and staging process of their play as their own lives and loves unfold under the often austere guidance of their literary mentor, the poet Behcet Necatigi (Yilmaz Erdogan).
Muzaffer falls for Belcim Bilgin's rich girl Suzan against the wishes of her stiffling and socially ambitious father. Rustu discovers love with the delicate Mediha (Zeynep Farah Abdullah) who he meets while recovering from consumption in the picturesque sanitorium of Istanbul's Heybeliada.  
Although their literary pretentions burn bright the future is less starry for this writing duo. Erdogan skilfully interlaces their story with frequent references to class and religious barriers of the era and gradually events on the world stage start to cast dark shadows on their sunny tale of love, friendship and what it means to be an artist.
Yilmaz Erdogan is well known on the Turkish scene as a writer, actor and director with appearances in Once Upon A Time In Anatolia (2011) and upcoming feature The Rhino Season (2013). His standout comedy Vizontele (2011) was a breakout hit in Turkey although it has to be said that Turkish humour is very specific to Turkey and has limited appeal elsewhere. The Butterfly's Dream is a Turkish classic in the making. At two and a half hours it's also a long one but is well-paced with laughter and tears, fabulous forties costumes and period detailing: a fitting opening feature then for the 18th London Turkish Film Festival 2013. MT
THE 18TH LONDON TURKISH FILM FESTIVAL RUNS FROM 21 FEBRUARY TO 3 MARCH 2013  AT THE ICA, RIO DALSTON AND CINE LUMIERE LONDON.