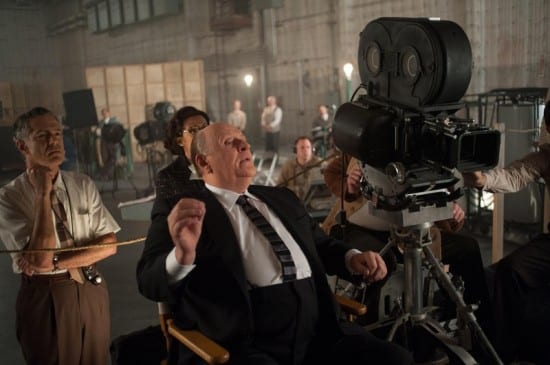 Director: Sasha Gervasi
Writers: John J McLaughlin/
Cast: Anthony Hopkins, Helen Mirren, Scarlett Johansson, Toni Collette, Jessica Biel, James D'Arcy, Richard Portnow, Michael Stuhlbarg, Michael Wincott,
98mins   Drama BIOPIC
Alfred Hitchcock has been having a hard time of it lately with Julian Jarold's portrayal of our most notorious English film director as being something of a dirty old man. This Hitchcock, though, based on Stephen Rebellos's non-fiction book, is more uplifting and entertaining than Jarold's TV offering as well as being fascinating for its sparkling treatise on the Hitchcock marriage. It will certainly go down well with anyone interested in how Psycho came into being and how it ushered in a new level of acceptable violence and sexuality to cinema screens in the early sixties.
Anthony Hopkins brings his subtle charms to the role of Hitchcock and gives an insight into a man who, according to this version set in Hollywood in 1959, felt mystified, misunderstood, and misled by the female of the species.  On one hand, it has him giving in to his uncontrollable urges as if he's some kind of psycho himself; possibly due to a strict upbringing marked by lonliness and obesity, and on the other dressing his difficult behaviour up as the natural personality profile of a creative genius just trying to get a film made.  I tend to side with the latter but that's for you to decide.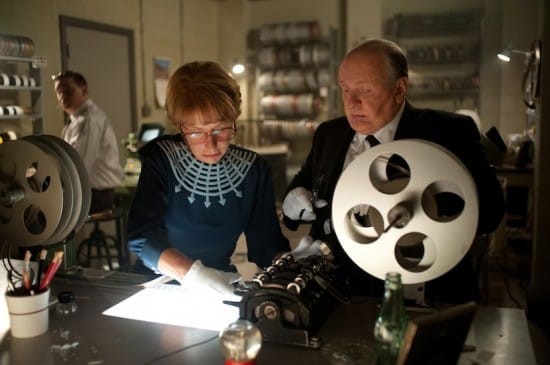 And apart from flirting with Scarlett Johansson's delightful Janet Leigh (which man wouldn't) and looking through a peephole at scantily clad Vera Miles (Jessica Biel) in her dressing room, 'Call me Hitch (hold the cock)' confines his real emotional cut and thrust to his relationship with his savvy wife and erstwhile assistant director, Alma Reville. Helen Mirren excels herself in this role despite being physically unlike the real Alma; described as small and birdlike.
There's definitely a complex chemistry between this couple and it plays out with consummate ease by two watchable, heavyweight talents portraying with humour and emotion the strengths and weaknesses of a marriage that had endured 33 years when Hitch decided to remortgage their mansion to finance Psycho (1960). The picture had been turned down for financing by Paramount and the Censors due to issues of nudity and the notorious shower scene because it involved a lavatory….rather than the web of political intrigue that had gone down so successfully in North by Northwest the previous year.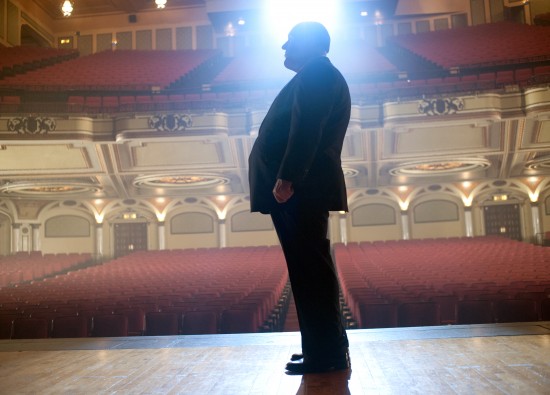 So, not surprisingly, Hitch is starting to feel the need for the support of his canny wife who is getting very chummy with a younger screenwriter, elegantly played here by Danny Huston. Sacha Gervasi's film places the battle for Psycho as a delicate counterpoint to the crisis in the Hitchcock marriage.
Jeff Cronenweth's cinematography is not quite up to his usual standard in rendering the sixties technicolor feel to the piece.  The trick of having Ed Gein (the serial killer who inspired the original novel by Bloch) haunting various scenes as Hitchcock's nemesis, is also questionable as is the drift in tone from comedy drama into psychological thriller that this entails.  James D'Arcy is edgy as the shy and diffident Anthony Perkins but lacks the characteristic spooky voice that was his calling card for the role. Support is well-cast and wonderful: Scarlett Johansson has poise and sparkling star quality as Janet Leigh, Toni Collette is a perky and switched-on studio girl Peggy Robertson, and Michael Stuhlbarg's portrayal of Hitchcock's shrewd agent has style and believability although none of these roles is really given much scope for character development.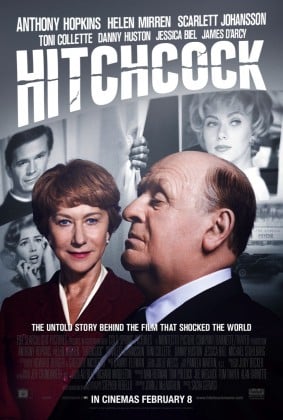 As Alma, Helen Mirren is subtle in the quiet moments of pain she experiences as a woman who knows her relationship is in jeopardy to Hitchcock's flirty blondes as much as her glorious Hollywood home and swimming pool. But she shines out as a strong and capable woman who punches above her well-toned weight in the creative partnership despite their very un-starry domestic arrangements.
Although lacking Hitchcock's dark looks, Anthony Hopkins brings a layered sensitivity to the part, portraying him as a naughty boy in a marriage to Mirren's 'mean mummy' who couches her frustration at always being the unseen contributor to his success.  But the in studios Hopkins evokes our pride and respect for this cinematic national treasure who comes across as very much his own man, who, despite human failings, pulls off a stroke of genius and is endowed with much more than just creative flair. MT
HITCHCOCK IS SCREENING AT CINEWORLD ACROSS LONDON FROM 8TH FEBRUARY 2013