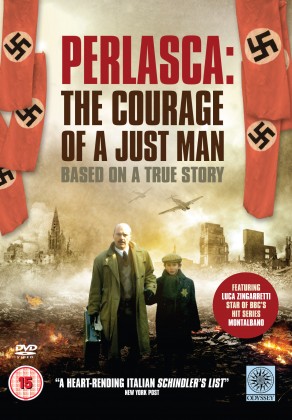 Director: Alberto Negrin
Novel: Enrico Deaglio
Script: Sandro Petraglia, Stefano Rulli
Cast: Luca Zingaretti, Jerome Anger, Amanda Sandrelli, Franco Castellano, Marco Bonini
***½
Originally made for RAI TV but don't be put off: Perlasca is a gripping and visually ravishing drama that will appeal to lovers of Second World War history and the Jewish Diaspora.
Perlasca: The Courage of A Just Man: is a historical drama that brings to light a little-known episode of history surrounding the 'Italian Schlinder', Giorgio Perlasca, who is credited with helping over 5,000 Hungarian Jews escape capture by the Nazis in Hungary during 1944-45.
This critically acclaimed film, originally made for RAI TV by the director of Mussolini and I (1985), is a straightforward linear narrative with precision visuals by Stefano Riciotti, who also lensed the BBCFOUR series, Inspector Montalbano.
The story starts in Nazi-occupied Budapest in 1944  towards the end of the Second World War where Perlasca is tasked with meat provision for the Italian army. Socially well-connected he's enjoying a pleasant lifestyle when the Hungarian authorities put out a warrant for his arrest. Fortunately, he manages to gain refuge in the Spanish Embassy due to his status as a supporter and fighter for fascism during the civil war in the 20s.  This diplomatic immunity starts to work to his advantage in his struggle to help the Jewish community.
Adapted from Enrico Deaglio's 1991 novel, 'La Banalita del Bene", what makes this film so captivating is a vibrant and rousing central performance from Luca Zingaretti as Perlasca. He really captures the spirit of the brave and resourceful hero who's not only fearless but also incurably romantic and driven by his humanitarian conscience.  Scored by Ennio Morricone's original music, the production builds considerable dramatic punch through its personal and emotional focus on the individuals affected and in contrast to Schindler's List, it gives an unflinching depiction of brutal atrocities occurring during this period in history. MT
PERLASCA IS NOW OUT ON DVD