Dir/Writer: Satyajit Ray (Based on a short story by Narendranath Mitra) | Cast: Madhabi Mukherjee, Anil Chatterjee, Haren Chatterjee, Sefalika Devi, Prasenjit Sarkar, Vicky Redwood | 131′   Drama | Bengali with English subtitles
Satyajit Ray found international fame with his 1955 Palme D'Or Winner Pather Panchali. Sombre in tone and intimate in feel, The Big City is another of the director's big screen classics: an enduring story with universal themes that carries a message of hope.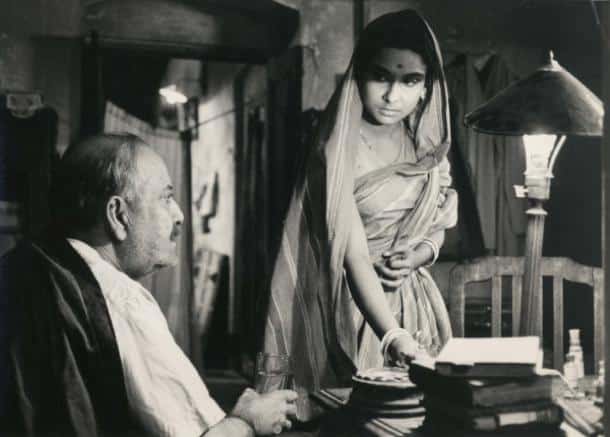 In 1950s Calcutta, a simple family's dynamic shifts gradually when the wife and mother takes a job to supplement the family income during a period of social and economic upheaval. In her debut role for the legendary director, Madhabi Mukherjee is quietly appealing and brings a warmth and authenticity to her role as a woman whose primary aim is to be loving and supportive to her son Pintu (Prasenjit Sarkar), husband Subrata (Anil Chatterjee) and his elderly parents. But Subrata's ego and pride are challenged by Arati's new-found confidence in the workplace, placing a strain on their homelife and calling into question his status as breadwinner and head of the household. With great subtlety and perception and an atmospheric score, Satyajit Ray tenderly evokes how change can affect the status quo in a marriage, sending ripples of discontent that are capable of causing family breakdown. Arati is a sensitive and unselfish woman, and with her considerable charm Ray illustrates how she cleverly keeps the family together by massaging men's egos, without rocking the boat. A low-key delight. MT.
from JULY 22 AND SELECTED UK WIDE CINEMAS  BFI SOUTHBANK