Dir: Roger Michell  Wri: Hanif Kureishi | Cast: Jim Broadbent, Lindsay Duncan, Jeff Goldblum, Olly Alexander, Brice Beaugier | UK Comedy Drama 93min
Hanif Kureishi and Roger Michell were regular collaborators on the subject of mature adult love (Venus, The Mother). LE WEEK-END sees a teaching couple from Birmingham in their sixties (well-known British thesps: Lindsay Duncan and Jim Broadbent), embark on a second honeymoon to Paris in a bid to spice up their tired marriage. Predictable premise: yes, but don't let this put you off.  The city of love is always a welcome setting for any romantic drama and Paris doesn't disappoint as we hurtle down open boulevards and swing by Montmartre and the Sacre Coeur.  But time doesn't stand still and Meg and Nick discover the hotel of their honeymoon has rather gone downhill.  In a moment of pure madness, they head for the Georges V and find themselves in the Presidential Suite.
Hanif Kureishi reflects their well-worn resentments, hopes and idiosyncracies in his sharp and well-judged script that sails close to the wind with bittersweet and laugh-out-loud authenticity appealing to art house and mature sensibilities.
As Nick, Broadbent's keen attempts on the physical front are met will derision from Meg who feels sexual but not sexy despite her Laboutin stilettos and black lacy dress. They resurrect the vamp in her and excite Nick's dormant libido; still alive but flailing desperately in search of encouragement.
Both nurse secret agendas as they chomp their way through gastronomic blow-outs: Nick has bad news on the work front and Meg feels restless and unchallenged by her job, fearing the future.  There's a feistiness to this relationship that, despite its bickering, feels so much more upbeat than the tawdry sniping of Before Midnight.  We actually feel for them both and want things to work out.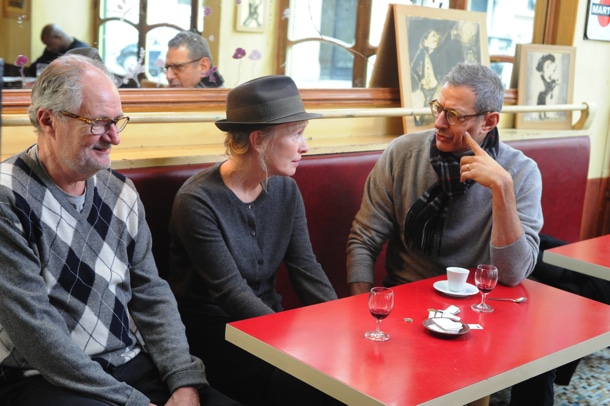 A chance meeting with an ex-student of Nick's (Jeff Goldblum) throws up an invitation to a soirée the next day.  Full of false bonhomie and pretentiousness, it's an evening of self-gratification for a group of minor intellectuals but brings Nick's sincerity and openness into sharp-relief amid a barage of boastful toadying. Here Broadbent is unexpectedly moving in a performance that breathes honesty from every pore. Lindsay Duncan too is surprisingly touching and believable in one of her best turns so far. There's a gung-ho attitude to these two that feels both appealing and genuine and very much buys into the theory that you only live once and life is not a rehearsal. Refreshing, fun and everything that Blue Jasmine was cracked up to be and wasn't. MT
LE WEEK-END IS ON NETFLIX UK