Dir: Thomas Piper | Doc, 73′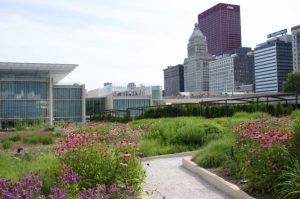 Dutch landscape designer and plantsman Pete Oudolf has dedicated his life to creating some of the most iconic gardens around the world and this documentary celebrates his contributions in the US and England.
Five Seasons' stunning widescreen panoramas showcase Oudolf's own gardens at Hummelo in Holland, and his signature public works in New York (The High Line); Chicago (Lurie Gardens) and designs for Durslade – a garden he considers his best work yet. The documentary flits about a bit chronologically, but provides a stunning visual and meditative experience. Piper's skilful time-lapse sequences take us through the whole year at Hummelo, from Autumn to the following Autumn, timelapse sequences offering an immersive look at Oudolf's planting techniques and creative process, from his beautifully abstract sketches, to his general ethos and feelings about the natural world. Oudolf paints with plants. But unlike painting, his creations develop in a multi-dimensional way, not only according to the changing seasons, soil and climate but also to the particular ambience they inhabit. Oudolf posits: "I put plants on stage and let them perform".
When he started out 35 years ago Oudolf 's abiding desire was to escape from traditional planting and design.. He wanted to get to know his living 'building blocks' spontaneously and from the experience of growing and living with plants rather than studying them in a college or from a book, "discovering beauty in things that are initially not beautiful". Tall, commanding and rocking a killer blond hair cut, he comes across as a reserved – almost spiky – man in discussions with designer Noel Kingsbury and photographer Richard Dark.
Growing up in a bar with his publican father, he never had that intimate family life. Instead he learnt to observe. Moving to Harlem with his girlfriend Anya (still the guiding light in his life) gave him the space to experiment and with her support he looked at various careers, finally ending up in a garden nursery. His method is to list a series of plants that will create the right atmosphere for his particular project, he calculates the dominant plant groups to achieve his overall effect: "Gardening is also a promise you're creating for your client. It's about getting the look right even during the bad moments, in the depths or winter or in drought".
Celebrated by gardeners for his revolutionary designs, by ecologists for his significant contributions to bio-diversity, by horticulturalists and botanists for his unrivalled knowledge of plants, and by the art, architecture, design and fashion worlds for his innovative aesthetics, Piet Oudolf has now achieved a level of influence and cultural relevance, rarely, if ever, attained by, in his own words, a modest plantsman.
Oudolf has achieved international acclaim, and has recently been awarded an Honorary Fellowship from the RIBA for developing radical ideas in Planting Design (2012) and the Prince Bernhard Cultural Foundation Award (2013).
FIVE SEASONS: THE GARDENS OF Piet Oudolf | 13 June 2019 PICTUREHOUSE CENTRAL