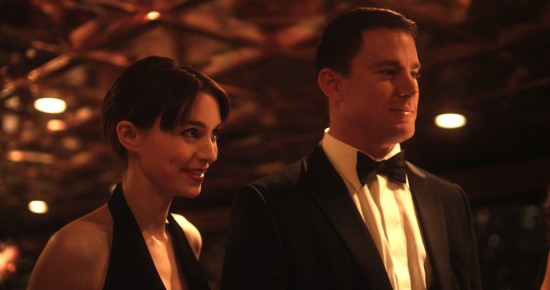 Director: Steven Soderbergh
Cast: Jude Law, Catherine Zeta Jones, Tatum Channing, Ronney Mara
104min  ****   US Thriller
Side Effects is a more persuasive endictment on the pharmaceutical industry than any worthy documentary on the subject of prescription drugs such as the recent  Fire In The Blood. It really should be on doctor's orders.
Steven Soderbergh's cool and clinical  thriller was a much needed shot in the arm at Berlinale this year and is purportedly the swan song for this successful indie revolutionary who broke onto the scene with Sex Lies and Videotape in 1989 and went on to win an Oscar (for Traffic) and create a lucrative franchise in the shape of Ocean's Eleven, Twelve and Thirteen and now seems set to retire from directing; at least movies, that is.
Set in contemporary New York it opens as a timely tale about a fall from grace suffered by a young wife, Emily Taylor (Rooney Mara), whose trader husband is in prison for insider dealing. It portrays the fear, the spiralling humiliation and the hopeless depression engendered when we lose almost everything we have achieved.  And even when husband Martin (Channing Tatum) comes home the blues don't leave. "Depression is the inability to be able to construct a viable future" says her sympathetic Dr Jonathan Banks: Jude Law in one of his most brilliant turns so far.  In fact Law's performance is the one of the best things about Side Effects.  He comes across with genuine integrity as an ethical doctor who's not without his own family turmoil and financial worries. And recommends the ideal pick-me-up to his patient Emily a pill that supposedly works wonders for depression. Gradually the tone turns from character study to gripping psychodrama where nothing is as it seems.
Rooney Mara as Emily is unstable and aloof but then there's a reason for this which gradually comes to light as the horror unfolds.  Catherine Zeta Jones is sinister and surprising as Emily's previous clinician Dr Victoria Siebert. Exit Soderbergh on a high then with an ingenious, dark Hitchcockian thriller that has more twists than a child-proof bottle. MT
SIDE EFFECTS IS ON GENERAL RELEASE FROM FRIDAY 8TH MARCH AT THE TRICYCLE, VUE, CINEWORLD AND HACKNEY PICTUREHOUSE.