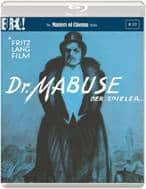 Dir.: Fritz Lang; Cast: Rudolf Klein-Rogge, Alfred Abel, Aud Egede Nissen, Gertrude Welcker, Bernhard Goetzke, Robert Forster-Larrinaga, Paul Richter;
Deutschland 1921/2, 270 min (2 Parts)
Scripted by Lang and his wife Thea van Harbou together with the author of the original novel Norbert Jacques, this is the first of Lang's trilogy of Mabuse films. In 1932 he filmed Das Testament des Dr. Mabuse, which was banned a year later by the Nazis, whilst Die tausend Augen des Dr. Mabuse (1960) was Lang's last feature, produced in Germany after his return from the USA.
Looked at superficially, DR MABUSE DER SPIELER is a sensationalist movie: Dr. Mabuse is is a man with many faces (literally), he slips easily into different identities, he can be an expert of the stock market, lectures about psychoanalysis and is equally at home as an scientist. But all he wants is power and money, and he uses his girl friend, the dancer Cara Carozza, to get to the moneyed Hull, whom he puts under hypnosis and robs him of millions at an illegal gaming club. Later he puts Count Todd under hypnosis, to make him cheat in the same club, than he kidnaps his wife. In the second part of the film, Dr. Mabuse is a psychoanalyst, hounding his rich clients into suicide. In the end, he acts as a magician on  stage, and tries to lure Wenk, his arch enemy and public prosecutor, onto the stage, to hypnotise him too.
Dr. Mabuse is not so much interested in wealth or status, but we wants to denounce the state and all it stands for. He sees himself as a creator, even though his actions are destructive. He is an evil romantic, trying to become the "Übermensch". He is the star of his own great play, but not interested in power itself, but only in permanent destruction. This way he has to prove himself over and over again, continually finding new ways to show his superiority. He is fascinated by himself, by his status as a super star, inventing permanently a new stage for dramatic appearances. He does not really wear masks, he is one.
Aesthetically DR MABUSE DER SPIELER is somewhere between 'Dr, Caligari' and 'M', meaning that the expressionism of certain shots is reigned in by an overall feel for realism. The trap doors and theatrical tricks are very much make-believe, but the reality of the Weimar Republic, the fear of total chaos, the poverty and the political rivalry are very much real. It is interesting in this context, that Lang's wife Thea von Harbou was an early Nazi sympathizer (she would work actively in Nazi Germany, whilst Lang emigrated to the USA), the director himself being somewhat on the left.
The film if often seen as an allegory on the early days of fascism, seeing the Mabuse character as an early incarnation of Hitler, but knowing about the different political leanings of the film's creators, one wonders how much of this is true. Nevertheless, DR MABUSE THE SPIELER is a monumental work, which entertains and surprises the viewer at every turn – like the enigmatic Mabuse himself, the film is never quite what we think it is. AS
[youtube id="6K5TizuS12Y" width="600″ height="350″]
Available to pre-order from:
Amazon (SteelBook Blu-ray) http://amzn.to/16CPmGh (Blu-ray) http://amzn.to/19PbNEh
The Hut (SteelBook Blu-ray) http://tidd.ly/4c81fee3 (Blu-ray) http://tidd.ly/d84bd855
MovieMail (SteelBook Blu-ray) http://bit.ly/1bVvOxL (Blu-ray) http://bit.ly/16CPqWi
---
SPECIAL FEATURES
• New, officially licensed transfer from restored HD materials
• New and improved optional English subtitles with original intertitles
• Exclusive feature-length audio commentary by film-scholar and Lang expert David Kalat
• Three video pieces: an interview with the composer of the restoration score, a discussion of Norbert Jacques, creator of Dr. Mabuse, and an examination of the film's motifs in the context of German silent cinema
• 32-PAGE BOOKLET featuring vintage reprints of writing by Lang