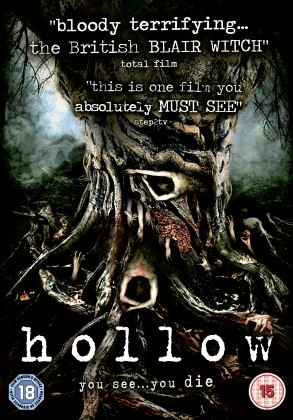 Dir: Michael Axelgaard | Cast: Emily Plumtree, Sam Stockman, Matt Stokoe, Jessica Ellerby, Simon Roberts | UK  2011 91mins Horror
The Axelgaard/Holt team make their first feature off the back of their Short film 'Lollipop Man', pulling in a group of young TV actors for this foray into the genre of 'self-shot' mockumentary flicks, made famous by the likes of 'The Blair Witch Project' and the more ambitiously budgeted 'Cloverfield'.
Containing the nugget of a good idea: an evidently ancient tree in the woolly wilds of Suffolk is steeped in folklore and macabre mystery as a group of two young couples go down for the weekend, ostensibly to empty a recently vacated vicar's home of the last few wanted possessions by the granddaughter, before a clearance company move in to complete the job.
Cracks in the relationships as well as the legends of the eponymous tree are gradually revealed, as time is spent with the four whiling away the hours without the benefit of a TV or computer games, all the while documented on a handheld camera.
A film employing this technique really needs to be exceptional in order to make new ground in the genre and what really lets Hollow down is both overwritten dialogue and unconvincing acting. This proves manifest in the opening sequence when a would-be Police video documenting the site of several unexplained deaths is our introduction to the film. This said, the plot itself and the manner in which it is shot and revealed is pretty good  taking into consideration this is a feature debut.
The tree, the vacant country house and the ruins of a nearby abbey are all excellent at providing atmosphere and authenticity to the intrigue but there remains some poorly thought through plot holes that would prove spoilers if I were to go into them here. This said, I am sure if the DVD was played one weekend at a girls' sleepover, it would prove scary enough to keep more than one of them awake.
There are without doubt many worse films in the horror genre. So Hollow is good effort and it is hoped the writer director team go on to do bigger and better. AT
NOW ON PRIME VIDEO