Director: Jafar Panahi
Cast Kambozia Partovi, Maryam Moghadam, Jafar Panahi, Hadi Saeedi
106min Drama
Both the dog and his master are being tracked by the authorities in Closed Curtain, Jafar Panahi's oblique existential piece of meta filmmaking from contemporary Iran which follows on from his documentary This Is Not A Film.
Opening with an extended static shot of a seaside wind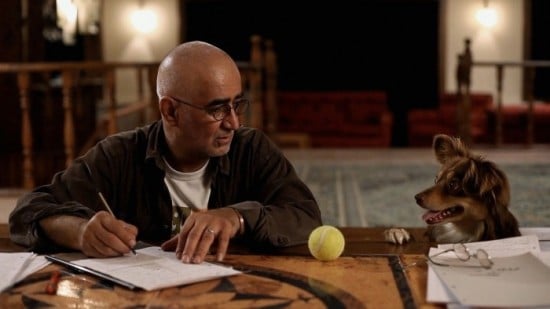 ow barred by security gates, it's a sober and bewildering set-up brought to life only by 'the man', played sensitively here by Panahi himself, and his lovely little dog who he is at pains to hide in this modern villa on the shores of the Caspian Sea.  When a strange couple appear from nowhere pleading to be given shelter a reign of attrition sets in with each character eyeing the other suspiciously and the dog aware that something isn't right.
With its ambient feel of menace, Closed Curtain is a disorientating film that alienates its audience and generates a strong feeling of claustrophobia as, understandably, it never moves outside the villa but is nevertheless atmospherically shot in a palette of soft seaside hues and terracotta: you could almost be on the Mediterranean were it not for the echoes of ambient hostility from local Police and some intruders who ransack the property. Our sympathies lie with the gentle man and his clever dog rather than the passive aggressive provocative who has purportedly attended a party and is seeking refuge from rebuke.
What develops is exactly what you imagine would happen if you asked a group of students to produce a film about creative expression in a repressed society: heavy-handed and amateurish in style. Not one of Panahi's stronger outings then but considering he was purportedly under house arrest for "committing propaganda crimes against the Iranian Government" not a bad effort and certainly worth watching for devotees of this inventive and resourceful director's work. MT
REVIEWED DURING BERLINALE 2013 | NOW ON GENERAL RELEASE