---
The BFI's upcoming COMEDY GENIUS SEASON features a new set of four shorts starring the queen of silent comedy, Mabel Normand.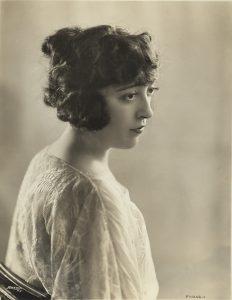 Mabel Normand (1892-1930) had a short but eventful life: she was a pioneer of Silent Movies as a star actress (in 220) and director (in 10) between 1910 and 1927. Working alongside Charlie Chaplin, she ended up saving his career at Mack Sennetts' Keystone – the producer wanted to sack him. Normand also developed Chaplin's 'tramp' screen personality. But she was, more or less, accidentally involved in the murder of William Desmond Taylor and the shooting of Courtland S. Dines, as well as being a friend (and co-star) of 'Fatty' Arbuckle, whose life was a series of scandals. Normand suffered for a long time from TB, interrupting her career and leading to her early death at the age of 37.
Mable's Blunder (1914) 
Dir.: Mack Sennett, Cast: Mabel Normand, Mack Sennett, Harry McCoy, Charles Bennett, Eva Nelson; USA 1914, 13 min.
Mable's Dramatic Career (1913)
Dir.: Mack Sennett; Cast: Mable Normand, Mack Sennett, Alice Davenport, Virginia Kirtley; USA 1913, 14 min.
His Trysting Places (1914)
Dir.: Charlie Chaplin; Cast: Charlie Chaplin, Mabel Normand, Mark Swain, Phyllis Allen; USA 1914, 32 min.
Should Men walk Home (1927) 
Dir.: Leo McCarey; Cast: Mabel Normand, Creighton Hale, Eugene Pallette, Oliver Hardy; USA 1927, 35 min
Mabel's Blunder is a screwball comedy of cross-dressing. Mabel (Normand) bizarrely ends up being fancied by her fiancée (Bennet) and his father Harry (McCoy) – in a bizarre turn of events that naturally sees her compromised and embarrassed.  But things get worse when the fiancée's sister (Nelson) arrives and is also keen on her own brother. Far too fond – in the eyes of Mabel- who doesn't realise what's going on, and suspects she has a rival. Mabel changes into male clothing and teaches both men a lesson. Directed by Mack Sennett, this is a turbulent but elegantly comic sketch.
Sennett was also the director of Mabel's Dramatic Career, in which Normand plays a maid in love with the young Master of the house (Sennett) whose mother (Davenport) really prefers a real 'lady' for her son. Mabel is dismissed, but makes a career in the movies. This leads to great unhappiness on the part of the son, when he see his ex-flame on the cinema screen. The final scene is a showcase showdown.
In His Trysting Places Charlie Chaplin directed himself and Normand as couple who fall foul of a comedy involving a mix-up in coats. Chaplin is supposed to get a bottle for the couple's daughter, but takes the wrong coat in a pub. Mabel finds a letter for a rendezvous in the pocket. She throws a fit. At  the same time, the owner of the coat (Swain) meets his girl friend  (Allen) in the park. She finds a baby-bottle in his coat pocket, and suspects that he has a child with a rival. The helter-skelter of the solution is mad slapstick but hilarious and brilliantly timed.
Should Men Walk Home, directed by Leo McCarey (for producer Hal Roach) is Normand's penultimate feature. Also known as Girl Bandit, Mabel plays an upmarket lady robber, who together with her friend (Hale), tries to rob a wealthy man during a party. A detective (Pallette) stumbles through the film, always missing the clues, whilst Oliver Hardy has a small, but poignant role as a guest. When it comes to farce, McCarey was one of the best directors, and the finale even features an underwater sequence. Avantgarde and beautifully carried off.
SCREENING AS PART OF BFI's COMEDY GENIUS season NATIONWIDE from 9 November 2018