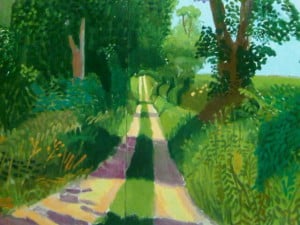 Director: Randall Wright | 113min   UK Biopic
"We grow small trying to be great".
Born in a tightly-terraced house in Bradford, the fourth of five children, David Hockney's early memories were of darkness and claustrophobia. It was a happy and aspirational childhood with his strong mother and a father who encouraged him not to care about what the neighbours thought, and fired his imagination and enthusiasm for the world outside with regular visits to 'the pictures'.
Randall Wright's portrait of the artist is as ambitious and upbeat as Hockney himself, enlightened by archival material and enriched by cine footage from Hockney's family collection. Spanning a career that started in local art school and the RCA as a popular and gently opinionated maverick, it shows how he was associated with the Pop Art movement of the 60s, abstract expressionism and figurative work, and is now considered one of the most influential artists of the 20th Century, and the most expensive living artist when his Portrait of an Artist (Pool with Two Figures (1972) was sold at Christie's for 80 million dollars under the hammer in November 2018.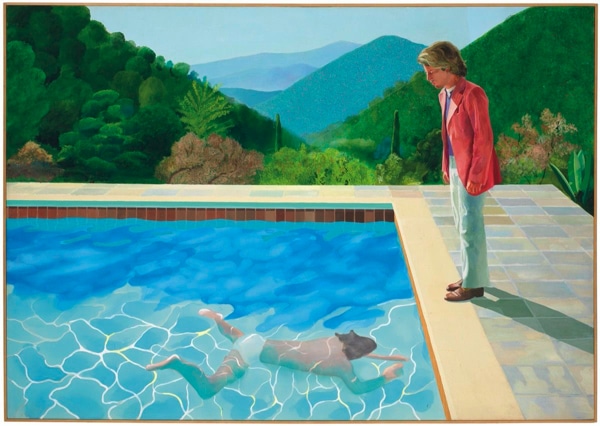 Kicking off with the usual talking heads who share their fondness for the artist contemporaries and American pals (Ed Ruscha who fleshes out a picture of a philosophical thinker, capable of amiable friendship, lively wit and occasional bouts of introspective loneliness: "I think the absence of Love is Fear"). After a sexually and artistically explorative spell in 1960s New York (his blond hairstyle was the result of a Clairol advert on TV), Hockney gravitated to California spending many years developing his technique with acrylics in bright colours, a fascination with the spacial qualities of water and swimming pools led to his most famous work: A Bigger Splash (1967) – the splash took seven days to paint.
Friendships with Christopher Isherwood and his partner Don Bachandry feature heavily during these years along with a love affair for Peter Schlesinger, an art student who also posed for him and followed him back to London where Tchaik Chassey designed a lateral apartment for the couple in Kensington. Embarking on a series of portraits for friends and relatives, we also meet Celia Birtwell who appeared with Ossie Clark in his other well-known figurative painting, Mr and Mrs Clark and Percy (1970/71).
Continually broadening his artistic horizons, Hockney also stresses the intellectual side of art as opposed to photography: "the longer it takes to put (an image) together, the more representative it becomes of time and space". Hockney also developed an interest in Opera due to his gift of synesthesia, an ability to see bright colours when listening to music. His iPad paintings are possibly his most innovative work with landscape, developing and exploring a spacial awareness unique to painting and allowing us to chart the development of his paintings from the first marks  "the way we depict space and the way we behave in it are different – wider perspectives are needed now".
Filled with serenity, insight and gentle humour, Randall Wright's biopic overflows with information, facts and fascinating footage, packing in every subtle nuance of this remarkable creative force in just over two hours.  We are left with a feeling of pride and admiration for our national figure who is as charmingly appealing and strangely naive and this colourful legacy. MT
HIS LATEST EXHIBITION entitled THE ARRIVAL OF SPRING 2020 IS NOW SHOWING AT THE ROYAL ACADEMY IN LONDON
HOCKNEY: A LIFE IN PICTURES IS ON DVD