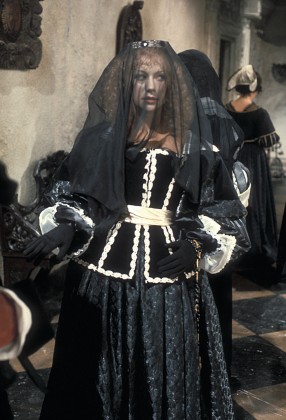 Director: Simon Curtis
Writers: adapted for screen by Michael Hastings from the play by Thomas Middleton
Cast: Hugh Grant, Bob Hoskins, Elizabeth McGovern, Sean Pertwee, Leslie Phillips, Adie Allen.
As part of the Jacobean Tragedy Season at the BFI, The Changeling is an excellent modern version of the classic play by Thomas Middleton, filmed for television in 1993 and directed by Simon Curtis, who then went on to success as a producer and director with David Copperfield (1999) and My Week With Marilyn (2011) which spawned Oscar nominations for Michelle Williams and Kenneth Branagh.
Elizabeth McGovern gives a commanding performance as Beatrice-Joanna, one of the most intelligent and cynical heroines in English literature and her machiavellian servant De Flores, who secretly lusts after her and is played here masterfully by Bob Hoskins. This adaptation has removed a sub-plot that takes place in a madhouse, in favour of its central focus on the stormy but close relationship between De Flores and Beatrice-Joanna.  It opens days before her wedding with a chance encounter that will change her life forever.  She then collaborates with De Flores to have him kill her fiance in order that she is free to marry her true love, but misjudges the mood, and tragedy naturally ensues.
All the cast skillfully handle the Jacobean text with aplomb, making it feel completely natural: no mean feat requiring a deep understanding of the dialogue and its meaning. The monochrome, predominantly black and white-themed costumes perfectly complement the dark nature of the piece and there's also an excellent use of light and shadow to convey the sinister tone and murderous intent. Bob Hoskins is availed of a navaja folding knife, an accurate weapon for this 16th Century story, it was a time purportedly even more violent than that of Shakespeare.
Hugh Grant shines in a remarkably good turn as the dark and dashing character Alsemero: he was relatively unknown at this stage in his career before Hollywood stardom beckoned. There is also a wonderfully convincing performance from Leslie Phillips as Vermandero. The whole piece is set off by Stephen Warbeck's atmospheric and unobtrusive original score. MT
A 1974 version of The Changeling starred Helen Mirren in the role of Beatrice-Joanna (pictured above).  Simon Curtis is married to Elizabeth McGovern.