Director:                     Aleksei Balabanov
Script:                         Aleksei Balabanov
Producer:                    Sergey Selyanov
Cast:                            Mikhail Skryabin, Yuriy Matveev, Aleksandr Mosin, Aida Tumutova, Anna Korotayeva, Varvara Belokurova, Roman Burenkov
Russia 87mins   2010    Black Comedy
Balabanov follows up his successful period piece Morphia with something more in line with Cargo 200. The Stoker is a scathing attack on the nascent mob culture in Russia and with Pop composer Valeriy Didyulya providing the music that is the only thing that lends this film the comedy element to its tone. Otherwise, it is a pretty dark, stark depiction of life in the 1990s in the 'burbs of a harsh, wintery St Petersburg.
Known more as a theatre actor, the recently deceased Skryabin is superb in the titular role. Skryabin is a Major, retired due to injury during the Afghan War and now the eponymous stoker, tending the furnaces of an industrial complex, owned by Russian mobsters.
Life here is cheap. You may not even be aware that you have transgressed, only to find yourself food for the fire. Skryabin turns a blind eye to the bodies fed into his coal box by erstwhile army colleague Misha (Alexandr Mosin), content to spend what little time he gets with his daughter and write a long-gestating book about the persecuted North East Siberian 'Yakut' people on an ancient typewriter set up by his bed in the boiler room adjacent to the voracious incinerators.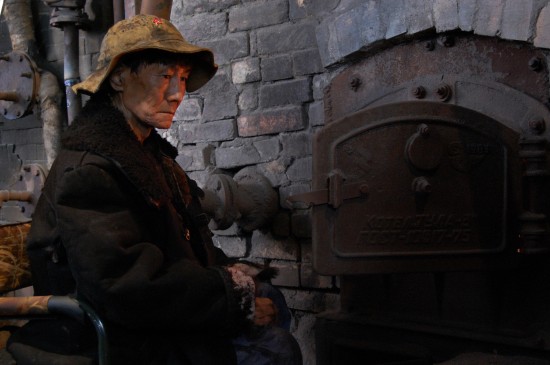 First time actress Aida Tumotova is perfect as Sasha, the stoker's daughter, now set up in business in the fashionable fur trade and in love with Misha's taciturn hired gun, 'Bison' (Matveev). Indeed, the cast are terrific throughout.
Balabanov has extracted all of the sexiness out of killing, counter to the current American fashion. Here, it has become a sanitised occupation, a clinical undertaking, exercised with the practiced functionality of a fruit-picker or glassmaker and is all the more powerful for it. Likewise, nudity is treated with the same total lack of self-consciousness.
The only downside to this sparse, economically shot, finely executed and highly stylised drama is the pop music, which although making its comedic point quite obviously, finally grates in the use of the same pop song over and over; although this is of course is presumably also an artistic choice.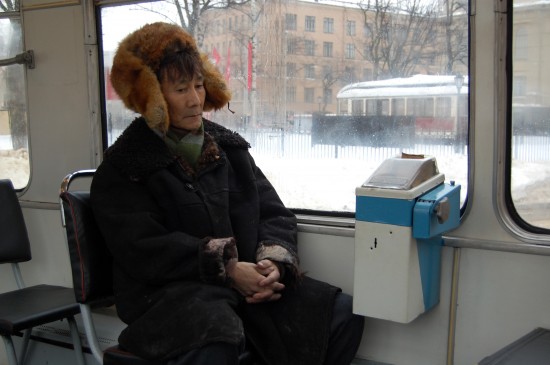 An eloquent, if somewhat light tragicomedy; in the end, it's an exploration of the venality of life, where moral bankruptcy slips down through generations with ease, with even less compunction even than the generation coming before. At what point do you take a stand? AR
THE STOKER WILL SCREEN AS PART OF THE ALEXEI BALABANOV RETROSPECTIVE AT KINO KLUB, THE MAYFAIR HOTEL FROM 1 FEBRUARY UNTIL 25 MAY 2014 COURTESY OF ACADEMIA ROSSICA