Director: Anne Fontaine
Screenplay: Christopher Hampton
Cast: Robin Wright, Naomi Watts, Xavier Samuel, James Frecheville, Ben Mendelsohn
100mins  Australia/France   Drama
The oedipus complex provides the counterpoint to this complex drama about female sexuality and friendship. It follows two women who have grown up together in an idyllic oceanside location in Australia.  Their visceral bond has kept them close through marriage, children, widowhood and separation; exploring the nature of friendship, love and sexuality from a uniquely female perspective.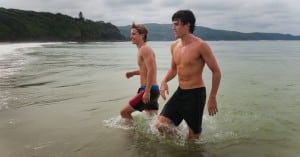 Based on a short story by Doris Lessing, The Grandmothers: subversive French auteur Anne Fontaine (Nathalie, Coco Before Chanel) has refreshed the narrative bringing it firmly up to date, casting two attractive and well-maintained fortysomething 'cougars' as the women: they could be you or me: Naomi Watts plays Lil and Robin Wright, Roz completely dispelling the image of 'grannies' being old biddies with knitting.  Healthy living has enabled these two to look good. A potent cocktail of emotional maturity and enduring sexual desire empowers them to enjoy young lovers in the same way that traditionally was the preserve of men. Enjoying a beach lifestyle, Roz and Lil are neighbours at work and home, living with their respective grown-up sons.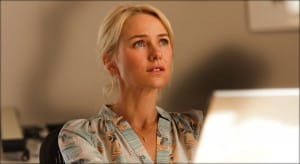 Lensed by Christophe Beaucarne, ADORE is lovely to look at but initially suffers from clunky moments on the dialogue front. Gradually this resolves as a taut drama emerges. Robin Wright is magnificent, giving one of her best performances so far  as the tough but emotionally available Roz and  is by far the stronger of the two. Naomi Watts is more fluffy and unsure of herself, but convincing as the ultra feminine Lil. The boys are  powerfully handsome with an appealing vulnerability that ramps up the erotic value of what happens next.
Fabulously plotted by Doris Lessing, ADORE covers all the intellectual aspects and subtle nuances of female sexuality reflecting poignant biological truths and exultant moments of pleasure and insight.  Anne Fontaine is at pains to point out the barren male choices available to these women that has driven them towards their eventual romantic entanglements. But their behaviour never lacks decorum, steering well-clear of the pitfalls of gratuitous over-emoting. These are women who are really worthy of praise as role models despite all.  The adult male characters here are predictable: self-centred and puffed up on their own egos.  Roz's ex-husband drifts off to prioritise his career in Sydney with unsurprising results.  Lil attracts a work colleague Saul, who pursues her endlessly failing the read the signs and then accuses her of being a lesbian when she fails to reciprocate. So no evolvement on the adult male characterisation there. ADORE begs to be seen by any intelligent audience, male or female.  Long after the sheltering palms and sugar-white sandy beaches have faded from view, the complexity of this absorbing film will stay in your memory. MT
ADORE IS SCREENING AT THE 57TH BFI LONDON FILM FESTIVAL ON THURSDAY 10TH  (VUE7), FRIDAY, 11TH AND SUNDAY, 13TH OCTOBER (CINE LUMIERE).