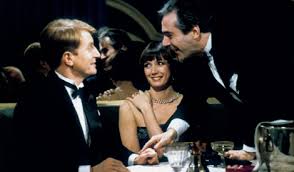 Dir: Alain Resnais; Cast: Sabine Azéma, Pierre Arditi, André Dussollier, Fanny Ardant; France 1986, 112 min.
Mélo, based on the play by French author Henri Bernstein (1876-1953), has already been filmed three times, before Alain Resnais (Hiroshima, mon Amour), adapted it for the screen in a theatrical version, which proved again that the director prefers style over contents.
This doomed love story sees married couple Romaine (Azéma) and Pierre (Arditi) live in the Parisian suburb of Mont Rogue, where they invite Marcel (Dussollier), Pierre's friend from the conservatoire, for supper. Since their youth, the men's careers have taken very different directions: Pierre is a member of a not all to prestigious orchestra, while Marcel is a violinist of some renown. But when it comes to their love life, roles are reversed: Pierre is happy with Romaine, but Marcel doesn't really trust women with his heart, making happiness impossible. The kittenish Romaine, much more mature than her husband, in spite of him treating her like a child, falls for Marcel, and after a musical beginning in his posh Parisian flat, they begin a torrid affair. The naïve Pierre closes his eyes to everything, and even after Marcel returns from a tour, he still overlooks his wife's absences. It is unclear whether Romaine tries to poison her husband, but cousin Christiane (Ardant) appears on the scene, and the desperate Romaine commits suicide. An epilogue desperately tries to make Marcel admit the truth.
Renais is known for his stagey approach and love of theatrical formats. Before every new scene, there is a curtain opening, and no fourth wall: Resnais reminds us that he is directing a play: the film outings by German director Paul Czinner (Germany 1932, UK 1937), seemed dated at release, but fifty years later, the conflicts are even more arcane. But Resnais's aesthetic rigour, and Charles Van Damme's static, long shots echo Last Year in Marienbad  and Manoel de Oliveira's films, keep the audience interest until the final denouement. Azéma (who would marry Resnais twelve years later), is the centre of attention, her confusion makes her much more sympathetic than Arditi and Dussollier, who both are somehow wooden and one-dimensional. Ardant brings in some rigour, certainly a woman who knows what she wants. Mélo is very much a melodrama from a bygone era. AS
ON BLURAY FROM 8 APRIL 2019 COURTESY OF FETCH.FM