Director: John Hardwick
Writer: Jonny Owen
Cast: Martin Freeman, Vicky McClure, Michael Socha, Maxine Peake, Matt Berry, Morwena Banks
93min  Comedy   UK
The premise whereby impassioned, eternally optimistic rockers attempt to spread the sweet sound of music to the unsuspecting public, has been covered in British cinema this past year in the likes of Good Vibrations and Vinyl. Though there are shades of the intrinsic charm of the former, John Hardwick's Svengali is regrettably more in tune with the latter, in what is ultimately an unfulfilling comedy picture.
Our eternal optimist, in this instance, is Dixie, played by Jonny Owen – who also penned the screenplay. Bored in his monotonous livelihood in a small town in Wales, he sets off for London with his girlfriend Shell (Vicky McClure) by his side, and plastic bag in tow, hoping to become the manager of an unsigned band he heard online. Though triumphant in his quest, and attracting interest from the likes of renowned record label owner Alan McGee (playing himself), it seems he may eventually have to choose between the band, or his girlfriend; as the two aren't quite as compatible as he had initially envisaged.
The overstated narrative can be somewhat frustrating, and though inevitable (this is cinema, after all), it can prove difficult to believe in the band's increasing popularity. It doesn't help that we don't ever hear them play, but that issue is key to how absurd and fantastical is all turns out to be: as even for an industry that is notoriously impulsive, this band are 'the next big thing' before anyone has even heard them play.  That said, Hardwick does a fine job in capturing the essence and anarchic spirit of a fresh new indie band in the early stages of their career, with a nod to the likes of The Libertines, and the movement that followed them at the turn of the Millennium.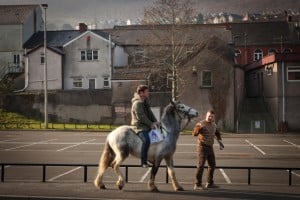 Talking of spirit, Dixie is a wonderful creation, with an infectious optimism and outlook in life. His happy-go-lucky persona and ability to find the good in everyone is an endearing quality, and the audience wish him all the best as a result. It also means that when he's upset about something, or annoyed with somebody, we completely adhere to it given it's such a rarity. He has a great image too, reminiscent of Irish comedian Michael Redmond, always with his trusty plastic bag in hand. He collects things as a child would, and it's this blissfully naïve quality we like about him. Meanwhile, he shares a great chemistry with McClure – hardly surprising as they're an item in real life – though the actress is better than this film. There are some great cameos to be noted too, such as Martin Freeman and Maxine Peake, though conversely, you can see why Alan McGee didn't ever pursue a career in acting.
Svengali suffers most in the flat comedy, as a film that succeeds more when it's heartfelt and poignant with a well-handled romantic narrative. It begs the question why the film can't drop the pointless gags that pollute the production and detract from the one key thing that makes this film a worthwhile endeavour – its sincerity.  Stefan Pape.
SVENGALI IS OUT ON GENERAL RELEASE FROM 21 MARCH 2014