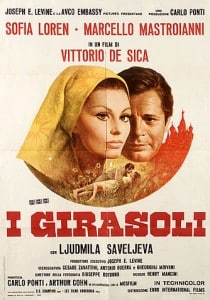 SUNFLOWER (I GIRASOLI)
Dir.: Vittorio De Sica; Cast: Sophia Loren, Marcello Mastroianni, Lyudmila Savelava; Italy/USSR 1970, 107 min.
Perhaps not de Sica's most intense drama, SUNFLOWER is still a moving film. Written by Tonino Guerra and Cesare Zavattini, mainstays of Italian neo-realism, the film tries successfully to get away from the pure melodrama that the plot might initially suggest.
Just before the outbreak of the Second World War, Antonio (Mastroianni) marries Giovanna (Loren) on a whim and we are left in no doubt that for him the twelve days leave he gains is more important than Giovanna. Having failed to convince the military board of his insanity, Antonio is a very reluctant soldier and is drafted to the Russian front.
SUNFLOWER is strictly anti-war in its ideology, avoiding any glorification of the hostilities. After a particularly gruesome battle, Antonio is left for dead but nursed back to health by Mascia (Savelava). They marry and Antonio adapts surprisingly well to the rural environment. Meanwhile, back in Italy, Antonia cannot find out what happened to her husband and sets out for Russia to look for him. After finding the couple, she corners Mascia: "If he really lost his memory, how do you know that his name is Antonio?" Antonio is shown as weak, oscillating between the much stronger women. De Sica splays up his opportunism to the full and on his return to Italy Antonio is in for a very rude awakening.
Naturally Loren dominates the film (produced by her husband Carlo Ponti) as she did in nearly all her collaborations with Mastroianni – the latter being a particularly sordid weasel, who does not deserve either of the women. But the images of veteran DOP Adriana Novelli, who would shoot de Sica's masterpiece The Garden of the Finzi-Continis in the same year, remain most powerful along with HD elements from Giuseppe Rotunno, who lit most Italian headliners, including The Leopard. AS
SUNFLOWER DVD VOD re-master and widescreen format release on 26 January 2-15 with optional Italian audio.