Dir: Paul Nickell | Creator/Wri: Fletcher Markle | US Drama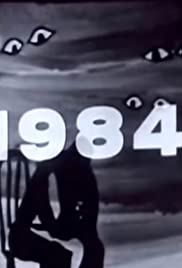 As a huge admirer of Orwell's original novel I was pleasantly surprised that although inevitably not in the same league as Nigel Kneale's BBC adaptation broadcast the following year, how much of the basic storyline – and more importantly the mood – adaptor William Templeton's distillation managed to get into just 50 minutes (minus commercials) broadcast live on a TV budget.
A modern viewer will approach this version with scepticism, knowing that it was made at the height of anti-Red hysteria in the United States and of the blacklist. An opening narration underlined by Shostakovich's Seventh Symphony has been added to Orwell's story to convey Soviet-style totalitarianism and stresses that "What happens to the people in this story might happen to us. Might happen to you. If we should ever relax in our fight for freedom, if we should allow any individuals or any group of individuals to reduce our freedom of thought, our freedom of speech, our freedom of religion, then what happens to the people in this story will happen to us." However, the irony implicit in this exhortation forcefully delivered by CBS newscaster Don Hollenbeck in the context of the McCarthyite America of 1953 is probably deliberate; and Hollenbeck himself was hounded into committing suicide by gassing himself the following year by a relentless campaign of press harassment headed by a Hearst columnist named – I kid you not! – O'Brian. (Hollenbeck is played by Ray Wise in the 2005 film 'Good Night, and Good Luck').
The production looks suitably expressionistic (the bizarre, vaguely abstract portrait of Big Brother somewhat resembling Dr. Mabuse), and although big, strapping Eddie Albert is as miscast as the undernourished, downtrodden Winston Smith as Edmond O'Brien was in the film version three years later, like O'Brien he gives his usual excellent performance. Fans of 'Bonzana' will be surprised to see Lorne Greene as an incisive O'Brien. Norma Crane (little known to film viewers, but memorable as Ellie Martin in 'Tea and Sympathy' and Golde in 'Fiddler on the Roof') is a sassy Julia who I personally found far sexier in her regulation-issue dungarees & blouse and leather greatcoat than the fifties party frock she changes into during her trysts with Winston (in this version of the future it's mainly the women rather than the men who wear ties), and the moment when she undoes and discards her Anti-Sex League sash carries quite an erotic charge. @Richard Chatten
NOW ON AMAZON