Dir: Michelangelo Antonioni | Cast: Lucia Bose, Massimo Girotti, Ferdinando Sarmi, Gino Rossi | Italy, Drama 98′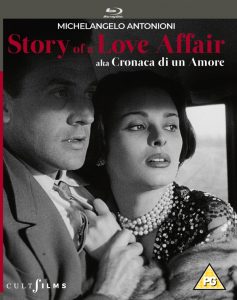 Antonioni's impeccably stylish social critique unfolds crisply in black and white, in and around his hometown of Ferrara known for its beauty and cultural importance.
Set amongst the wealthy industrialists of Italy's Po Valley powerhouse whose main concern other than business and their elegant cars and fashions is, of course, love. And especially for the women. But  Cronaca di Amore gradually emerges not just as a sombre story of marital infidelity and discontent but also a tightly-plotted noirish expose of the life and times of a seemingly innocent young bride.
Cronaca di Un Amore was Antonioni's first feature but his graceful sense of framing and mise en scene were already evident – in one of the early scenes is an aerial view of four gleaming sports cars sets the tone for this menage a trois amongst the upper classes and the star lead was his then girlfriend 19 year old Miss Italy Lucia Bose.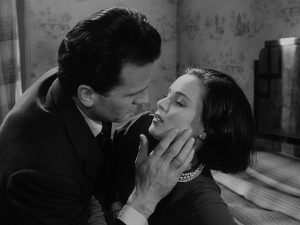 She plays Paola the self-focused and voraciously acquisitive new wife of a rich but workaholic Milanese fabric manufacturer. Her truculent attitude to his amorous overtures along with photos of her past cause him to hire a private investigator to track her movements in an around Ferrara and Milan.
As always in Italy the"Bella Figura" is of the utmost importance to both sexes, and Antonioni reflects this in his choice of costume designer in the shape of cutting edge couturier Ferdinando Sarmi who headlines the titles not only for his costumes but also as Paola's cheated husband, Enrico.
But Paola wants the only thing money can't buy: love. And although the two never really look happy together, she soon confesses her undying love for the good-looking but impoverished ex Guido (Girotti) who she wheels in to fill the emotional void in her life, although Guido is already spoken for. Tortured by their feelings for one another, and plotting Enrico's demise, the two embark on a doomed but very chic and well-turned out love affair, primped by Giovanni Fusco's plangent score, and chiaroscuro camerawork by Enzo Serafin. MT
Story of a Love Affair is on BFI player and Blu-ray