The Seventies spawned a series of thrillers exposing the political tensions that were reverberating across Europe. It was a decade when the social turmoil that marked the late 1960s gave way to a more strident politics that involved stark and sometimes violent contrasts between left and right. A decade that was scarred by the emergence of uncompromisingly radical groups such as the Red Army Faction and the Red Brigades.
In response to this charged moment, a number of filmmakers across Europe turned to the format of the thriller. Stylish and enduringly popular with audiences, they saw it as the perfect vehicle through which to explore conspiracies, authoritarian regimes, and political violence.
Costa-Gavras' legendary Z (1969) headlines an era that would showcase some of the best political thrillers of an era that would continue with Investigation of a Citizen Above Suspicion (1970), The Lost Honour of Katharina Blum (1975) and The Day of the Jackal (1973).
State of Siege (1972) (15) (État de siège) Bergamo Film Festival 2022
Dir Costa-Gavras | Cast: Yves Montand, Renato Salvatori, O. E. Hasse
A tense political thriller set against the background of Latin America's dirty repressive politics, State of Siege is one of the finest political thrillers of the 1970s. Costa-Gavras casts Yves Montand in the lead as an undercover American agricultural advisor who is kidnapped by guerrillas in Uruguay.
Special Section (PG) 
Dir Costa-Gavras/FR IT West Germany 1975 | 118′ | Cast: Louis Seigner, Roland Bertin, Michael Lonsdale
Costa-Gavras sets Special Section in Nazi-occupied France during the Second World War. When a German officer is murdered, the collaborationist Vichy government decides to pin the killing on six petty criminals. Loyal judges are then called in to convict them as quickly as possible in a special court. Costa-Gavras won Best Director at the 1975 Cannes film festival for this brilliant thriller.
The Mattei Affair
Dir Francesco Rosi | IT 1972 | 116′ | Cast: Gian Maria Volontè, Luigi Squarzina, Peter Baldwin
This investigative thriller The Mattei Affair focuses on the death of Enrico Mattei, an influential businessman who made enemies in the mafia. His story is interspersed with Rosi's investigation into the disappearance of his friend, journalist Mauro De Mauro, who was undertaking research for the film. Led by a magnificent performance from Gian Maria Volontè, The Mattei Affair is one of Rosi's finest works and won the Palme d'Or at Cannes (ex aequo) in 1972.
The Odessa File  (Prime Video)
Dir: Ronald Neame | Cast: Jon Voight, Maximillian Schell, Maria Schell, Derek Jacobi, Mary Tamm | UK 130′ 1974
A Holocaust diary captures the imagination of Jon Voigt's diligent investigative journalist Peter Millar, who sets out to uncover the truth behind a powerful Nazi organisation called ODESSA. Adapted for the screen from Frederick Forsyth's bestseller by Ken Ross and Ronald Neame, who cut his teeth behind the camera working for Hitchcock on the first talking picture made in England, Blackmail (1929).
Investigation of a Citizen Above Suspicion (18)
Dir Elio Petri/IT 1970 | 115'/Italian | Cast: Gian Maria Volontè, Florinda Bolkan, Gianni Santuccio
In Elio Petri's visually stunning film was nominated for an Oscar having won a Silver Bear at Berlinale in 1969. It sees a corrupt police official attempting to show his invincibility by creating a murder scene where the evidence can only lead investigators to him. Starring Gian Maria Volontè who provides a mesmerising performance, this is a sly and slick condemnation of the state and the police from one of Italy's major political filmmakers of the 1960s and 1970s.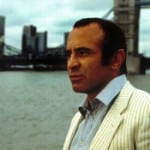 The Long Good Friday (on Amazon Prime)
Dir John Mackenzie/GB 1980 | 115′ Bob Hoskins, Helen Mirren, Paul Freeman
In this iconic British thriller, gangster Harold Shand, a gritty Bob Hoskins, sees himself as the big shot property developer of London's rundown dockland and becoming a legitimate businessman in partnership with the American Mafia. However, his plans are waylaid when a number of his associates are brutally attacked and he realises that the gangland he thought he ruled over was a much more divided and complex territory.
The Day of the Jackal (15)  (Prime Video)
Dir Fred Zinnemann/GB FR 1973 | 143′ | Edward Fox, Terence Alexander, Michel Auclair
Edward Fox made his name in Fred Zinnemann's legendary film that explores the attempts of a right-wing paramilitary group to assassinate French President General De Gaulle following the independence of Algeria. The Day of the Jackal is one of the twistiest thriller of the 1970s and never outstays its welcome despite the long running time.
The Lost Honour of Katharina Blum (15)
Dirs Volker Schlöndorff, Margarethe von Trotta/Ger 1975 | 106′ | Cast: Angela Winkler, Mario Adorf, Dieter Laser
A key political film of the New German Cinema, a young woman's life is scrutinised by police and press after she spends the night with a suspected terrorist. Volker Schlöndorff and Margarethe von Trotta co-directed and adapted The Lost Honour of Katharina Blum from the controversial novel by Heinrich Böll.
Days of '36 (12) (Meres tou '36)
Dir Theodoros Angelopoulos/GR 1972 | 104′  | Cast: Vangelis Kazan, Kostas Pavlou, Thanos Grammenos
Angelopoulos's stylised thriller is set in 1936 just before the Metaxas' dictatorship. A trade unionist is murdered in broad daylight one of the suspects rounded up is Sofianos, who claims to be innocent. But when a minister visits his cell he takes him hostage with tragic consequences in an elegantly composed affair that one the Greek director the FIPRESCI prize at Berlinale 1973.
Illustrious Corpses (PG) (Cadaveri eccellenti)
Dir Francesco Rosi/IT FR 1976/120′  | Cast: Lino Ventura, Tino Carraro, Marcel Bozzuffi
Lino Ventura stars in this atmospheric thriller based on Leonardo Sciascia's novel Il Contesto. He is a quietly confident detective appointed to investigate the mysterious murders of several senior members of Sicily's judiciary, linked to skulduggery in the Italian communist party.
Man on the Roof (15) (Mannen på taket) |
Dir Bo Widerberg | Cast: Carl-Gustaf Lindstedt, Sven Wollter, Thomas Hellberg | 1976
In this 1970s Nordic Noir thriller based on The Abominable Man by Swedish crime writers Maj Sjöwall and Per Wahlöö, Carl-Gustaf Lindstedt is Beck, a detective investigating a brutal murder in a hospital that leads to incidents of police brutality and culminates in a showcase finale on the rooftops of Stockholm.
The Flight (CTBA) (Die Flucht)
Dir Roland Graf/East Germany 1977/94′ | Cast: Armin Mueller-Stahl, Jenny Gröllmann, Erika Pelikowsky
One of the final films made in East Germany featuring Armin Mueller-Stahl – who also appears in Costa Gavras' Music Box (1989). Here he plays a doctor who is refused permission by the GDR to take up a research post in the West, and so links up with an underground network who claim to be able to cut through red tape. But there is is a hitch, as there always is. Grand Prix Winner Karlovy Vary 1978.
Circle of Deceit (18) (Die Fälschung) (Available on Amazon)
Dir Volker Schlöndorff/West Germany FR 1981/108′ | Cast: Bruno Ganz, Hanna Schygulla, Jean Carmet
In Circle of Deceit Schlöndorff weaves romance with political intrigue in a thriller shot on location in Beirut. Bruno Ganz and Hanna Schygulla are the lovers who navigate a complex moral and political maze in a country on the brink of war.
SOME TITLES NOW AVAILABLE ON NETFLIX, PRIME VIDEO, BFI PLAYER and BERGAMO FILM MEETING 2022