Dir.: Anton Corbijn; Documentary with Aubrey Powell, Noel Gallagher, Roger Waters, Nick Mason; UK 2022, 101 min.
Cambridge in the early 1960s: four young men set out to make history: Syd Barnett and Roger Waters would found "Pink Floyd", meanwhile Storm Thorgeson and Aubrey Powell were re-inventing the art of record cover design with Hipgnosis'; an English design duo who created memorable cult classic album sleeves. The images would sear into our collective unconscious as a visual record of the times. Hipgnosis would go on to devise iconic covers for the likes of T. Rex, Black Sabbath, Wishbone Ash, the Alan Parsons Project, Peter Gabriel, Genesis, Yes,  AC/D and many more.
First time full-length documentary filmmaker Anton Corbijn has adapted Trish D Chetty's script chronicling the often wild and chaotic relationship between Storm Thorgeson (nomen est omen) and Aubrey Powell (*1946), the latter contributing much of the film's material, since "Stormzy" died in 2013. Noel Gallagher, David Gilmour, Jimmy Page, Roger Waters and Nick Mason give their testimony of a ground-breaking relationship.
Back in the day the HQ of "Hipgnosis" in Denmark Street (WC2) had no loo facilities – everyone used the sink, and nobody thought much of it. Then a water pipe burst in the Greek Bookshop on the ground floor below and valuable antiques were severely damaged – luckily Storm and Aubrey had insurance cover. These were just some examples of a time when art got away with blue murder.
Hipgnosis' first cover work was for "Pink Floyd's" 1968 album "A Saucerful of Secrets". From then on the band would headline the Hipgnosis catalogue – together with "Led Zeppelin" . Floyd's "Atom Heart Mother" soon followed in 1970, that famous cover with "the Cow", that resisted any attempt to be replaced by its given title. Pink Floyd's 1973 outing "Dark Side of the Moon", with the famous triangle glowing in a dark SF world, was so far the most ambitious attempt to elevate cover design into an artform in its own right – but it often succeeded in doing much more. Pink Floyd's "Wish you were Here" (1975) took things a step further, avant-garde, even for those days: Few knew the stuntman risked his life in being set on fire – most people thought it was just a collage.
Hipgnosis' 1973 cover for Led Zeppelin's "Houses of the Holy" – featuring naked children climbing on Ulster's Giant Causeway – would never have got past the censors today. On a more playful note "Look Here ('10cc' 1980), pictured a lightly tranquiliised sheep on a psychiatrist's couch – (under strict medical conditions!).
And talking of our furry friends, Pink Floyd's "Animals" album cover (1977) featured a pink plastic pig floating over Battersea Power Station. Roger Waters considers pigs to be at the top of the social pecking order, and -in fitting tribute – the porker later broke free and ended up drifting over countryside meadows.
Perhaps much more frightening was Peter Gabriel's cover for "Scratch" (1978), which showed the artist itching himself out of his cover cage, foreshadowing horror films to come.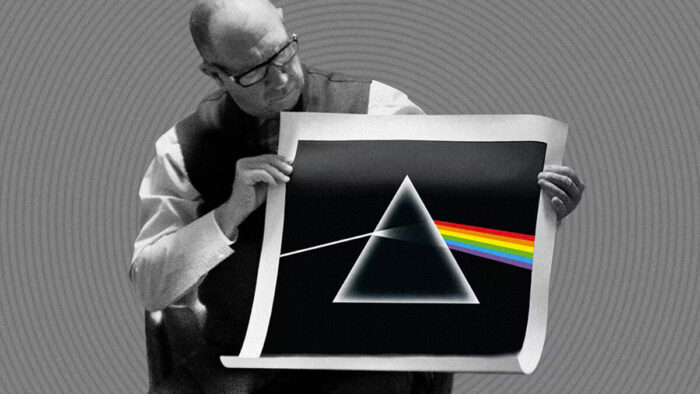 When asked about Storm, all interviewed were unanimous "but he was a genius", although Thorgeson was invariably a procrastinator – always in a bad mood and uncompromising. In 1983 things came to an end even though Peter Christopherson, also from Cambridge, had joined the duo. "Stormzy" never cared much about money, and soon the group turned their talents to producing music videos, Storm thought he was "a Hollywood director with all the money in the world to spend". But the bank had other ideas after Powell had left. The two didn't speak to each other for twelve years, much in the same vein as Syd Barnett and his Pink Floyd band members.
DoPs Martyn Breekhulzen and Stuart Luck give life to this tour-de-force of images. And for once, the music takes a back seat. Opening a new Vinyl and reading the lyrics printed inside the cover was a ritual for us back then. Corbijn's overdose of nostalgia will go down a storm with fans of that magical era. Enlightening, passionate and rather sad. AS
IN CINEMAS FROM 14 JULY 2023