Dir.: Egor Abramenko; Cast: Oksana Akinshina, Fyodor Bondarchuk, Pyotr Fyodorov, Anton Vasiliev, Aleksey Demidov, Vytalya Korniyenko; Russia 2020, 113 min.
This fist feature film by Russian director Egor Abramenko is an impressive variation on the Alien theme. The Sci-Fi adventure is set for the most part in a drab security Laboratory in Siberia in 1983, underlining the inhuman story to be told. After a brisk opening hour, it loses steam even although the final twist redeems some of the earlier promise.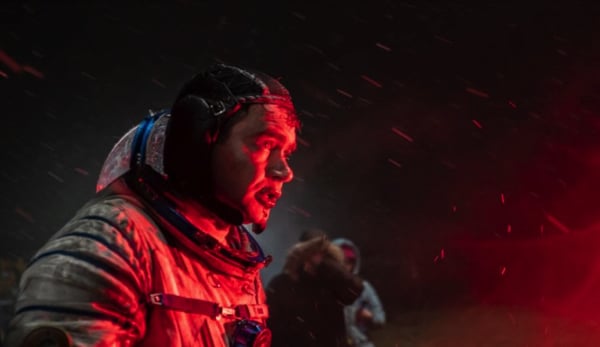 In Cold War era Russia Tatyana Klimova (Akinshina) is a rebellious neuro-physiologist who has fallen foul of the Stalinist leaders of her Institute in Moscow, an episode that has left her constantly on painkillers as a result of a back injury.
Meanwhile Colonel Semiradov (Bondarchuk) is a Secret Police commander in charge of a compound in Siberia where two cosmonauts, Konstantin (Fyodorov) and Demidov (Averchenko) fetch up after a botched space mission. Tatyana soon discovers that Konstantin is host to an alien creature which leaves his body every night. The 1.5 meter-tall creature, channelling a locust/scorpion, is a benign host sharing Konstantin's likes and dislikes. Daunted at first, Tatyana eventually manages to manipulate the strange creature by singing one of Konstantin's favourite love songs. Klimova also discovers it eats the same food as his host, but resident biologist Yan Rigel (Vasikiev), keen on winning a Nobel Prize for his research, discovers some other grim truths about the eerie entity.
Writers Oleg Malovichko and Andrei Zolotarev create an inventively alarming storyline complimented by Maxim Zhukov's terrific camerawork  in this weirdly ominous netherworld where it never gets really light. The alien itself is not particularly frightening, but it does not need to be because the focus here is the psychological war. Akinshina does well as a plucky fighter, but her love affair with Konstantin is less convincing. Sputnik is an ambitious debut with some strong ideas but rather too many clichés. AS 
OUT ON 14 AUGUST 2020 ACROSS THE UK/IRELAND